Kerry warns middle class against Bush
(Agencies)
Updated: 2004-10-18 09:17
Massachusetts Sen. John Kerry accused President Bush on Sunday of planning a surprise second-term attempt to privatize Social Security, and forecast a "disaster for America's middle class." Republican party chairman Ed Gillespie called the charge "just flat inaccurate."
The clash erupted as Kerry and his running mate both appealed to Florida voters to cast their ballots as early as Monday under the state's early voting program. "There's no reason to wait until November the 2nd," vice presidential candidate John Edwards said in the state that settled the last race for the White House.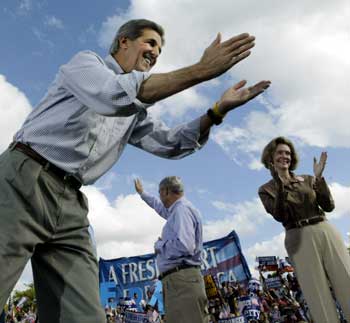 Democratic presidential nominee John Kerry (L-R) gestures into the crowd as he takes the stage with U.S. Senator Bob Graham (D-FL) and Grace Nelson, wife of U.S. Senator Bill Nelson (D-FL), at campaign rally in Pembroke Pines, Florida October 17, 2004.[Reuters]

Little more than two weeks before Election Day, the latest polls made the campaign a close one, seemingly tilting Bush's way despite debates that bolstered his Democratic rival's standing.

"God, there's so many polls," lamented the president's brother, Gov. Jeb Bush of Florida. "I mean, it's like you could just be obsessed with focusing on that rather than the reason to support somebody," he said on ABC's "This Week."

After a campaign that has exposed deep differences between the two candidates over the war on terrorism, Iraq, the economy and more, Kerry and Bush hoped not. And the issue of Social Security gave the two sides fresh fodder for disagreement.

"I'll tell you what. I will never privatize Social Security. I'll never cut the benefits and I won't raise the retirement age," Kerry told an audience in Pembroke Pines, Fla.

The Massachusetts senator seized on a New York Times Magazine story to attack Bush. The article quoted the president telling supporters that "privatizing Social Security" would be high on his second-term agenda.

Bush took time off from campaigning during the day, leaving it to his surrogates to counterattack.

"John Kerry's misleading senior scare tactics are just another example of a candidate who will say anything to get elected," said spokesman Steve Schmidt. "No matter how false his accusations or how contradictory they are with his record of repeatedly voting for higher taxes on Social Security."

Bush spent the day at the White House, emerging to attend church services and go for a bike ride.

He is scheduled to make what aides billed as a major speech on terrorism Monday in New Jersey, where millions live within sight of the terrorist-scarred lower Manhattan skyline.

With the White House as his campaign backdrop, the president-candidate also was signing a $33 billion measure for homeland security.

Increasingly, Republicans and Democrats alike were focusing on voter mobilization efforts in a dozen or so states that remain competitive.

Not surprisingly, Florida got special emphasis as Democrats sought to avenge the bitterly disputed recount that propelled Bush to the presidency in 2000. "You've got to start voting tomorrow," Kerry told his audience in Pembroke Pines, underscoring the appeal Edwards had made in a Daytona Beach church a few hours earlier.

Gov. Bush said the White House was considering a policy change that could affect the state and possibly appeal to voters of Haitian descent. The administration is considering a temporary halt in the deportation of Haitians fleeing their country because of recent severe hurricane damage, he said. Kerry called for the step to be taken last week.

Kerry talked about Social Security first from the pulpit of the Mt. Olivet Baptist Church in Columbus, Ohio.

He called privatization Bush's "January surprise," and said it may be good for "the wealthiest people and the well connected in America, but it's a disaster for America's middle class."

Citing estimates from the Congressional Budget Office, Kerry said Bush's plan would mean "benefit cuts for seniors of between 25 percent and 45 percent. That's up to $500 less for food, for clothing, for the occasional gift for a grandchild." He vowed anew not to cut benefits or raise the retirement age if elected.

Bush has long advocated overhauling Social Security to allow younger workers the choice of putting a portion of their payroll taxes into private accounts.

Aides have said current Social Security beneficiaries and those approaching the age of eligibility would not be required to accept any changes in the current system.

But implicit in any such modification is the need either to replace or offset the money that will begin flowing to private accounts rather than traditional Social Security. Estimates run into the trillions of dollars over several years.

Purely in political terms, Republican survey data long ago discovered that voters recoil at the use of the word "privatize" in connection with either Social Security or Medicare.

Gillespie said the account of Bush's remarks was a "secondhand report and it is just flat inaccurate." Appearing on CNN's "Late Edition," he also said it was based on "hearsay." Gillespie said he often attends events such as the one cited, but added he couldn't be certain whether he had been at the one featured in the story.

As is their custom, the nation's newspapers began choosing sides in the presidential race on their editorial pages. The Minneapolis Star Tribune, The Miami Herald and The Kansas City Star urged readers to pick Kerry. The Grand Rapids (Mich.) Press, The Fort Worth (Texas) Star-Telegram and The Canton (Ohio) Repository called for Bush's re-election.

The Tampa Tribune in Florida, which has backed every Republican candidate except Barry Goldwater in the past half-century, said it would not issue an endorsement.




Today's Top News
Top World News

Chinese riot police head for Haiti mission




Wiping out poverty galvanizes China




2 Chinese shot dead in robbery in S. Africa




Chinese drivers worry of petrol price hikes




NY Times endorses John Kerry for president




Pentagon: Ex-detainees return to terror