Car bomb kills at least seven in Baghdad
(Agencies)
Updated: 2004-10-18 08:53
U.S. troops pounded Fallujah with airstrikes and tank fire Sunday, and the Iraqi government appealed to residents to expel "foreign terrorists" to prevent an all-out attack. A suicide driver in Baghdad exploded a car near a police patrol, killing at least seven people and wounding 20.
A mortar shell also exploded at a Baghdad sports stadium minutes before interim Prime Minister Ayad Allawi arrived to inspect a cash-for-weapons program for Shiite fighters. Insurgents, meanwhile, ambushed and killed nine Iraqi policemen as they were returning home from a training course in Jordan.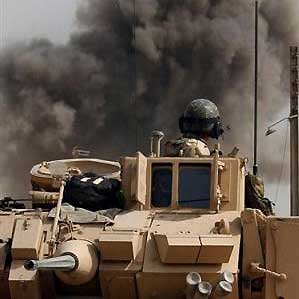 A U.S. Army soldier watches from atop his armoured vehicle as smoke rises in background after his unit destroyed a seized Katyusha rocket in Baghdad, Iraq, Sunday Oct. 17, 2004. The rocket was seized from a yard next to a school.[AP]

Separately, the most feared militant group in Iraq, Abu Musab al-Zarqawi's Tawhid and Jihad, said in an Internet statement that it would take orders from Osama bin Laden and al-Qaida from now on.

Throughout the day, the crackle of automatic weapons fire and the thud of artillery echoed across Fallujah, 40 miles west of Baghdad, as fighting between American troops and insurgents raged on the eastern and southern edges of the city, witnesses said.

Clashes blocked the main road leading to Baghdad, and plumes of smoke rose above the flat-roofed houses in the city's Askari and Shuhada neighborhoods in eastern and southern Fallujah.

Witnesses said a Humvee was seen burning in the eastern edge of the city, and hospital officials reported three civilians were killed. The U.S. military reported no casualties.

U.S. Marines said Sunday that they used small arms, tanks, artillery, mortars and seven precision airstrikes against Fallujah insurgents. The Marines said that insurgents were seen taking refuge in a mosque but that troops did not fire on them.

American forces have stepped up attacks around Fallujah since peace talks between the Iraqi government and Fallujah clerics broke down last Thursday after city leaders rejected Allawi's demand to hand over "foreign terrorists," including the Jordanian-born al-Zarqawi.

Fallujah clerics insist al-Zarqawi, whose Tawhid and Jihad movement has claimed responsibility for multiple suicide car-bombings and hostage beheadings, is not in the city. Fallujah fell under the control of hard-line Islamic clerics and their armed followers after U.S. Marines lifted a three-week siege in late April.

Despite the claim that al-Zarqawi is not in the city, a statement posted on an Islamic militant Web site on Sunday made a rare announcement that a member of Tawhid and Jihad identified as Sheik Abu Hafs al-Libi was killed fighting the Americans in Fallujah. The claim's authenticity could not be confirmed.

The earlier Internet statement from al-Zarqawi's group, which also could not be verified, affirmed the "allegiance of Tawhid and Jihad's leadership and soldiers to the chief of all fighters, Osama bin Laden." It said the announcement was timed for the start of the Islamic holy month of Ramadan, when "Muslims need more than ever to stick together in the face of the religion's enemies."

The car bombing occurred late Sunday in Baghdad's fashionable Jadiriyah district, home to the Australian and other embassies. The dead included four policemen and the suicide driver, according to the interior ministry.

As the Iraqis try to reach a peaceful end to the Fallujah standoff, the U.S. military is believed to be drafting plans for an all-out assault on the city if negotiations fail.

In London, the British Defense Ministry said the United States has asked Britain to redeploy hundreds of troops from southern Iraq amid reports the soldiers will back up the Americans in the event of a major attack on Fallujah.

British media reports say the United States wants British soldiers to replace units of the 2nd Battalion, 24th Marines in Iskandariyah, about 30 miles south of Baghdad.

Defense Minister Geoff Hoon will confirm the American request Monday before the House of Commons and say Britain has not made a decision, a ministry spokesman said.

Allawi's interim government renewed its call for Fallujah to surrender al-Zarqawi and others, saying their presence in "some areas and cities" is "something the government cannot accept or tolerate."

"We call upon the sons and tribes of Fallujah to immediately expel foreign terrorists and evacuate all the city's neighborhoods from these murderers and their criminal supporters who want to hamper plans of reconstructing Iraq," National Security Adviser Qassem Dawoud said in a statement.

Dawoud said "the door is still open before any initiative or effort to avoid having to use the military option."

Elsewhere, police said nine Iraqi policemen returning from training in Jordan were ambushed and killed Saturday in Latifiyah, an insurgent stronghold 25 miles south of Baghdad. The attackers escaped. Latifiyah is part of a belt of towns just south of the capital where kidnappings and ambushes have been common.

Along the Syrian border, overnight clashes between U.S. troops and insurgents left four people dead and 13 others wounded, Dr. Wael al-Duleimi said Sunday from the border town of Qaim. The city is a hotbed of insurgent activity and is believed to be a major route for smuggling weapons and fighters into Iraq.

In hopes of sparing Fallujah further violence, the city's clerics have offered to resume peace talks if the Americans stop their attacks. But the talks have deadlocked over the alleged presence of al-Zarqawi and other foreign fighters.

"We are still ready to go back to the talks and open new channels of dialogue," said negotiator Abdul Hamid Jadou. But he said Allawi is "responsible for each drop of blood being spilled in Fallujah. This government sided with the Americans in bombing the innocent people who are fasting in Ramadan."

The government had no comment. However, Interior Minister Falah Hassan al-Naqib said Fallujah's chief negotiator, Sheik Khaled al-Jumeili, would be released shortly. The cleric was arrested Friday near Fallujah after talks with the government broke down.

Iraqi officials hope that Fallujah leaders can be persuaded to negotiate a deal similar to one struck with Shiite radical cleric Muqtada al-Sadr to end clashes in the Sadr City district of Baghdad. Under the deal, al-Sadr's fighters have been turning in weapons for cash.

On Sunday, a mortar shell exploded at a sports stadium about 15 minutes before Allawi was to arrive to inspect the guns-for-cash program. The itinerary was quickly changed and Allawi visited several other sites before arriving at the stadium.

Allawi called on Iraqis throughout the country to surrender their weapons and to respect the rule of law and to be part of the political process.

More than 200 detainees were released Sunday from Abu Ghraib prison after a security review deemed them no longer a threat, the U.S. military said. It was the fifth round of releases since a review board began work in August following a torture scandal at the detention facility.

Also Sunday, the 1st Cavalry Division said it could be days before an investigation determines what caused two Army OH-58 helicopters to crash Saturday night in southern Baghdad, killing two soldiers and injuring two others.




Today's Top News
Top World News

Chinese riot police head for Haiti mission




Wiping out poverty galvanizes China




2 Chinese shot dead in robbery in S. Africa




Efforts underway to restart six-party talks




Chinese drivers worry of petrol price hikes




Pentagon: Ex-detainees return to terror