Chinese drivers worry of petrol price hikes
By Di Fang (China Daily)
Updated: 2004-10-18 08:06
Afraid of possible oil price jumps in the near future, some Beijing residents rushed to buy coupons issued by major oil providers in the capital city's local market.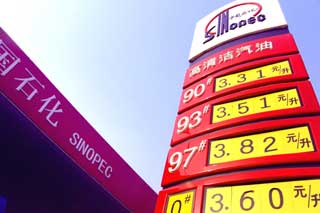 A fuel station in Zhengzhou, central China's Henan Province, displays oil prices in this October 14 file photo amid speculations that oil price hike is expected. [newsphoto]

Issued by the Beijing oil branch of the China National Petrochemical Corporation (SINOPEC), coupons for oil are sold in volume under the current price.

In another word, buyers will not pay more in the future when the oil price rises.

Local media reported that at some filling stations, many queued to buy the coupons over the weekend.

"Oil prices on the international market have continued to rise since early this month. According to common practice, domestic oil prices will go up as well," Li Xuan, a motorist in Beijing, said yesterday.

However, according to sources with the Beijing Municipal Commission for Development and Reform, they have not received any note from upper authorities for price changes.

The National Development and Reform Commission also announced there will not be such a price adjustment in the near future.

"It is unnecessary for local residents to swarm to buy coupons for oil," an expert from SINOPEC was quoted by the Beijing Morning Post as saying.

The expert pointed out that the international oil price is a price on paper, rather than a real price.

Furthermore, it is speculation on the international market that pushed the oil price higher than the cost price of crude oil, according to the expert.

The expert predicted the price of crude oil will decrease in the future. SINOPEC expects to introduce a cleaner fuel to the market. The new fuel will be 0.06 yuan (0.7 US cents) more expensive per litre than ordinary oil.

Some Beijing residents were afraid that they will not be able to buy ordinary oil after the introduction of the clean fuel.

But sources with SINOPEC said customers will have choices among different fuels.




Today's Top News
Top China News

Chinese riot police head for Haiti mission




Wiping out poverty galvanizes China




2 Chinese shot dead in robbery in S. Africa




Efforts underway to restart six-party talks




Chinese drivers worry of petrol price hikes




Pentagon: Ex-detainees return to terror