Chinese riot police head for Haiti mission
(China Daily)
Updated: 2004-10-18 07:40
A 95-member unit of officers from China's riot police force left Beijing on Sunday morning for Haiti to join the United Nations peacekeeping operation there.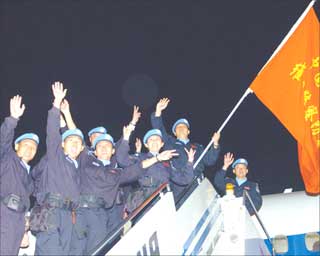 A unit of Chinese peacekeepers board a United Nations plane at Beijing's Capital International Airport early yesterday morning en route for Haiti. It is the first time a detachment of officers from China's riot police force has been included in overseas operations. [China Daily]

This is the first time China has included members of its riot police force in overseas peacekeeping duties, according to the Public Security Ministry on Sunday.

In Haiti, the force will support the international peacekeeping presence and local police to maintain law and order, deal with mass public security emergencies, serve as guards on important public occasions and organize and train local riot police.

The Public Security Ministry also said that sending a troop instead of individuals marks a step forward for China's participation in UN peacekeeping operations.

To date, China has dispatched a total of 297 Chinese peacekeepers to six nations including East Timor, Bosnia-Herzegovina, Liberia, Afghanistan, Kosovo and latterly Haiti. Excluding the latest contingent, there are 92 engaged in five UN peacekeeping operations.

Yang Huanning, vice-minister of public security, told visiting UN Secretary-General Kofi Annan last Tuesday that China was training more peacekeepers for UN operations.

"This is a very hard task but we are full of confidence we will succeed in this mission," one woman officer told State television.

Haiti's capital Port-au-Prince has been beset by violence between ex-soldiers who helped topple President Jean-Bertrand Aristide and supporters of the exiled leader who fled on February 29 after US and French pressure to quit.

Brazil is leading a UN force that numbers about 2,600 soldiers. It is a fraction of the 6,700 troops and 1,600 police authorised for the mission to stabilize Haiti after the February revolt in which more than 200 people were killed.

But Brazilian-led UN troops are stretched to the limit as they try to prevent the looting of aid supplies and to stop gun battles and political clashes on the Caribbean island.

Central American countries are considering sending troops at the request of the United Nations to cope with rising violence there, Honduran President Ricardo Maduro said on Saturday.

About 50 people have been killed since September.

Honduras, Guatemala, El Salvador and Nicaragua are looking into the possibility of sending a "humanitarian rescue unit" made up of soldiers, Maduro told a news conference at government headquarters.

"This is something that the region's defence ministers are going to look at jointly. I understand we have to take a decision quickly," he said.

El Salvador, Honduras and Nicaragua sent troops to Iraq as part of the US-led coalition last year, but only Salvadorean forces remain after the other two countries pulled out.

Brazilian Foreign Minister Celso Amorim said on Thursday the UN peacekeepers in Haiti urgently need reinforcements to cope with surging violence in the Caribbean country, which has also been devastated by tropical storms of late.

The UN force has just 2,600 soldiers, said Amorim - a fraction of the 6,700 troops and 1,600 police authorized for Haiti after a February revolt killed more than 200 people and forced President Jean-Bertrand Aristide into exile.




Today's Top News
Top China News

Warding off dark side, China displays fuel-saving cars




Chinese riot police head for Haiti mission




Hu urges police to improve performance




Wiping out poverty galvanizes China




2 Chinese shot dead in robbery in S. Africa




Chinese drivers worry of petrol price hikes