Seven held in new fake milk scandal
(Agencies)
Updated: 2004-10-17 16:58
Seven people have been detained for producing 60 tons of fake and low-quality milk powder in China's northeastern province of Heilongjiang, months after at least 13 babies died in a similar fake milk powder scandal.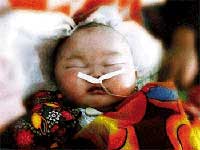 A victim of the fake and poor-quality milk powder in Anhui.[File photo]

Two people had been arrested and five detained for questioning after the discovery that the powder, some fake and some real but lacking in protein, and worth a million yuan (US$121,000) to its producers, had been sold, Xinhua news agency said on Sunday.

"The milk powder production line was smashed and a remaining 35.9 tons of powder were held back by the local government," Xinhua said.

In August, two officials were jailed for failing to prevent a fake milk powder scandal that killed 13 babies and made another 189 ill in the eastern province of Anhui.

China launched a sweeping campaign to stamp out sales of inferior milk powder.

Many of the Anhui victims were infants of poor farmers in the outlying areas around Fuyang. The infants were labelled "big head babies" because their heads swelled as their bodies wasted away after drinking the non-nutritious fake milk powder.





Today's Top News
Top China News

Peering through the smog: Can cars be clean?




Hu urges police to improve performance




Coffin of Chinese hostage back home




China marks anniversary of atomic bomb




China's most expensive ten villas unveiled




Experts call for rescue of sperm