Israel: Gaza incursion was a success
(Agencies)
Updated: 2004-10-17 14:14
Israel's military said Saturday that its 17-day incursion into the northern Gaza Strip struck a heavy blow against Palestinian militants routinely firing makeshift rockets into the country's southern region.
Palestinian residents, however, accused the army of wanton destruction, saying the broad military offensive targeted densely populated areas never used to launch rockets. At least 110 Palestinians — including dozens of civilians — were killed, making this the bloodiest military offensive in northern Gaza in four years of fighting.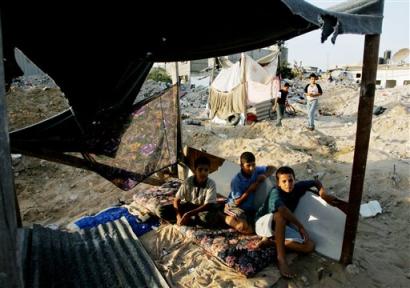 Palestinian youths sit in a makeshift tent at the site of their destroyed family house in the Jebaliya refugee camp, northern Gaza Strip, Saturday, Oct. 16, 2004.[AP]

Early Sunday the Israeli army moved elsewhere in the volatile territory, as 10 tanks and three bulldozers entered the Rafah refugee camp, near the Egyptian border. The army said the incursion was aimed at rooting out weapons smuggling tunnels in the area. No casualties were reported.

Palestinian Prime Minister Ahmed Qureia called the offensive in northern Gaza "part of a series of planned Israeli attacks to bring our people to their knees, but this will never happen."

The military campaign, launched after a rocket strike on the Israeli border town of Sderot killed two children, ended after nightfall Friday, when Israel withdrew tanks and ground forces from populated areas.

But Israeli officials conceded the operation was unlikely to halt the rocket attacks altogether and stressed that the army was prepared to return if necessary.

Five Israelis — including the two preschoolers, two soldiers and a woman jogger — were killed during the incursion.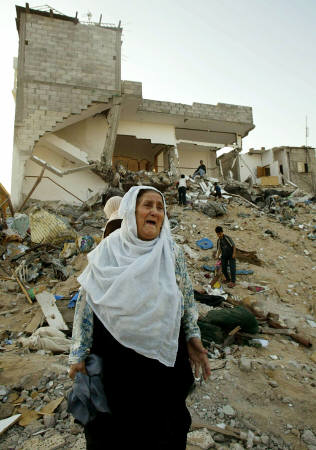 A Palestinian woman cries near the rubble of her destroyed home in the Jabalya refugee camp northern Gaza Strip October 16, 2004.[Reuters]

Palestinians awoke to a scene of heavy damage Saturday, sifting through rubble in search of belongings. Dozens of homes were destroyed, farmland was uprooted and roads and infrastructure were torn up.

A military official said the offensive "managed to dramatically reduce" the ability of militants to fire rockets, although the threat of future attacks remains.

The official, speaking on condition of anonymity, said the operation eliminated many militant cells and the civilian casualties were "regrettable."

Defense Minister Shaul Mofaz told Israel Channel 2 television that while Israeli forces had pulled back in northern Gaza, troops remain committed to battling the rocket threat — a strong hint that Israel believes more homemade Qassams will be launched.

"We are continuing to fight against the Qassams," he said.

Throughout the offensive, Palestinian militants managed to fire rockets toward southern Israel, although the frequency and intensity of the attacks decreased.

The Israeli operation focused on the Jebaliya refugee camp and the towns of Beit Hanoun and Beit Lahiya, the main launching grounds for hundreds of Qassams in the past four years.

Much of the fighting took place in densely populated areas of the refugee camp. Residents accused the army of causing unnecessary damage, saying the narrow alleyways made it impossible to launch rockets.

"There wasn't a single rocket fired from here," said Abdel Hadi Daher, 52. "Their real intention was to humiliate us."

The army has accused militants of using civilian areas for cover and said soldiers only destroyed buildings used to stage attacks. But Palestinian officials accused the military of using excessive force.

"There was the basic issue of vindictiveness and cruelty," said Hanan Ashrawi, a Palestinian legislator. "It's like telling the Palestinians, for every Israeli killed, we'll kill 20, 50, 100, whatever."

The Palestinian Authority said 95 homes were demolished during the offensive. The Palestinian Center for Human Rights in Gaza said dozens more homes, shops and public buildings were damaged.

In the eastern part of Jebaliya, at least 45 homes and a partially built mosque were razed. On the ground floor of the mosque, which had been used for only five months, carpets and holy books were covered in sand.

Latife Abu Oudeh, 55, sat on a pile of rubble as her daughter-in-law carried mattresses, children's clothing, a pink teddy bear, silverware and a bag with cosmetics and perfume from the ruins of their house.

Her 7-year-old grandson, Ahmed, looked at the teddy bear and said, "It looks very dirty. We need to wash it." He took the toy and ran away.

Abu Oudeh said her four-room house, home to 16 people, was destroyed at the beginning of the offensive. The family received no warning and was sleeping when a bulldozer approached before dawn, she said.

Thousands of Hamas supporters gathered outside a mosque in Jebaliya late Saturday, waving green Hamas flags and Palestinian flags and chanting anti-Israel slogans. Pictures of Hamas militants battling Israeli troops were shown on a large screen.

Many Palestinians in northern Gaza have criticized the rocket attacks, saying they provoke harsh Israeli reprisals. However, Abu Oudeh said her heart was now set on revenge.

"I am happy rockets were fired, and I want more to be fired," she said bitterly, adding that she was pleased Sderot residents were panicking over the attacks.

The fighting has complicated Israeli Prime Minister Ariel Sharon's plan to withdraw from the entire Gaza Strip next year.

Sharon says the withdrawal, to be accompanied by a pullback from four small settlements in the West Bank, will boost Israel's security after four years of fighting with the Palestinians. He says the continued occupation of Gaza, where 8,000 Jewish settlers live amid 1.3 million Palestinians, is untenable.

Opinion polls show that a solid majority of Israelis support the moves. But Palestinian rocket attacks threaten to undermine support.




Today's Top News
Top World News

Peering through the smog: Can cars be clean?




Hu urges police to improve performance




Coffin of Chinese hostage back home




China marks anniversary of atomic bomb




China's most expensive ten villas unveiled




Experts call for rescue of sperm