Hu urges police to improve performance
(xinhua)
Updated: 2004-10-17 10:56
Chinese President Hu Jintao has urged police to "enforce law for the people, be loyal to the principle of serving the people heart and soul, and increase their capabilities of safeguarding state security and social stability in an all-around way."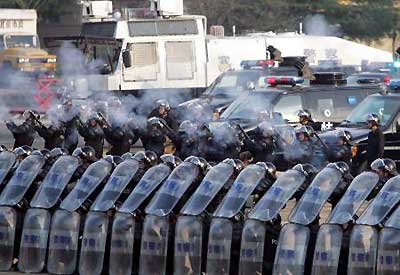 Policemen participate in a national police drill during a 'riot' exercise, in Beijing, capital of China, Oct. 15, 2004. [Xinhua]



Hu, who is also general secretary of the Communist Party of China (CPC) Central Committee and chairman of the Central Military Commission, watched a demonstration of police skills by representatives of 1.7 million policemen and police officers who have participated in a nationwide exercise since this May.

Also present were Wen Jiabao, Zeng Qinghong and Luo Gan, three members of the Standing Committee of the CPC Central Committee Political Bureau.

The Chinese leaders observed a parade, in 25 formations, of riot police, fire fighters, peace-keeping police troops for UN missions, and horse-riding women officers.

The parade was followed by a display of police skills including a fire-fighting show to subdue fires in a 5,000 cubic meters oil tank and a four-story oil-fractional workshop, as well as a performance of search, patrol, vigilance and chase by 120 police dogs.

Hu made a speech at the end of the presentation show, congratulating the success of the nationwide police exercise on behalf of the CPC Central Committee and the State Council.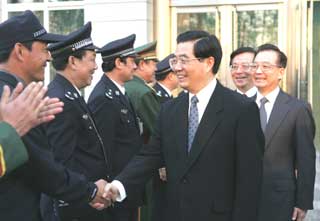 President Hu Jintao (front right) shakes hands with police officers taking part in the parade. [Xinhua]

China's police forces have proven to be "politically firm, loyal to their career, and willing to sacrifice themselves," he said, adding they are "completely reliable for the Party and the people of the country and have strong fighting capabilities."

In his speech, Hu highlighted the importance of social stability, underscoring that it is the fundamental premise for pushing forward the reform and opening-up policy and socialist modernization drive, the important guarantee for building an " overall well-off society" and an inevitable requirement for the buildup of a "socialist, harmonic society."

The presentation was presided over by Minister of Public Security Zhou Yongkang. Other senior official attending the event included Liu Qi, Guo Boxiong, Wang Gang, Xu Caihou, Lu Yongxiang, Hua Jianmin, Jia Chunwang, Liao Hui, and Luo Haocai.



Today's Top News
Top China News

Chinese riot police head for Haiti peacekeeping mission




Hu urges police to improve performance




Wiping out poverty galvanizes China




2 Chinese shot dead in robbery in S. Africa




Chinese drivers worry of petrol price hikes




NY Times endorses John Kerry for president



Story Tools


Advertisement