Peering through the smog: Can cars be clean?
By Li Jian (Shanghai Star)
Updated: 2004-10-17 09:45
As a bicycle kingdom gearing-up to become an automobile society, China, the world's third largest car manufacturing base, is facing a serious problem of automobile-related pollution and soaring levels of petrol consumption.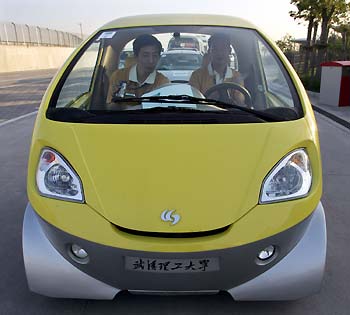 An electric-powered Aspire car from China's Wuhan University of Technology rolls at the start of the Challenge Bibendum Rally, a clean vehicle event, in Shanghai October 13, 2004. The event promotes progress in the development of environmentally friendly vehicles and is an increasingly popular platform for car manufacturers to demonstrate state-of-the-art technologies in this field. [Reuters]
China produced 4.45 million cars in 2003 and the total number of cars nationwide is expected to reach 24 million by the end of this year, according to the Ministry of Science and Technology.
China already ranks third among the world's automobile manufacturing countries, with a voracious domestic demand that has sucked all major automobile manufacturers into the market.
China's vehicle output is expected to grow an average of 10 to 15 per cent annually over the next 20 years, said Zhang Xiaoyu, chairman of the China Association of Automobile Manufacturers. Statistics from the State Environmental Protection Administration show that China will have 33 million automobiles by 2005 and over 131 million by 2020.
Polluted cities
As the market explodes, so are serious pollution problems. Vehicles have become the biggest carbon monoxide and nitrogen oxide emitters in big cities like Shanghai, Beijing and Guangzhou. In China's 14 largest cities, air pollution kills 50,000 newborn babies and causes
400,000 cases of respiratory illness every year, according to the Ministry of Science and Technology.
In Guangzhou, automobile exhaust emissions contribute 20 per cent of the city's air pollution. The proportion reaches 70 per cent in Shenzhen, a coastal city opposite Hong Kong which produces over 200,000 tons of vehicle exhaust annually.
Things are even worse in Hangzhou, a city of legendary beauty and picturesque scenery, renowned all over the country for its West Lake. Every morning on clear days, the city sky is blurred into a dismal grey by exhaust fumes.
In 2000, vehicular carbon monoxide and nitrogen oxide emissions in China reached 30 million tons and 3.8 million tons respectively. Authorities warn that this will double by 2010.
Oil dependence
Not only do vehicles create stress on the environment and human health, a growing automobile society also threatens to overwhelm China's oil resources.
"Every year, China allocates 60 per cent of its oil supply to transportation," said Deng Nan, vice-minister of Science and Technology. In 2000, vehicles in China consumed 65.6 million tons of oil, one-third of total demand.
This expected to rise to 138 million tons annually by 2010 and account for 43 per cent of the nation's total oil demand. This figure projected to rise further to 256 million tons by 2020, accounting for 57 per cent of total demand.
As a result, China will depend ever more heavily on oil imports - since the country's domestic oil reserves are quite limited - the nation's energy security will be greatly affected. China's overall oil demand is forecasted to be 450 million tons annually by 2020, with imports providing more than half, reported Beijing Time magazine.
Alternatives
With overcrowded roads and worsening traffic jams, Chinese cities are urgently seeking solutions to the automobile pollution problem.
Beijing, one of the world's most polluted cities, is allocating billions of yuan to tackle the problem.
In early 1999, State officials vowed that by 2000, the capital's 3,600 buses and 14,000 taxis would run on alternative fuels and that 49 gas stations would offer two kinds of clean vehicle fuels.
Shanghai has also adopted the same policy. The largest city in China plans to switch its 20,000 taxis over to liquified natural gas. In addition, the city's automobiles will face increasingly stringent tests of their exhaust emissions.
However, only 20 per cent of the city's 2 million vehicles have reached the Europe I standard for vehicle exhaust emissions so far.
"The governments should co-operate with automakers and technical institutes to tackle the problem of car pollution," said Li Xinmin, deputy director general of the Department of Pollution Control at the State Environmental Protection Agency.
"The State will encourage vehicle manufacturers to develop and produce vehicles powered by diesel, gas, ethanol, electricity, hydrogen and hybrid fuels, in accordance with China's new auto policy, released in June this year."
The average oil consumption of new vehicles is projected to decline by more than 15 per cent from 2003 levels by 2010 due to the introduction of new technology.
US auto-giant Ford has co-operated with China's Ministry of Science and Technology to develop advanced flexible-fuel vehicle technology, which allows various blends of gasoline and methanol to be used with no change in engine performance. A joint-engine dynamometers lab was established in Beijing in an aim to apply the technology in the China market, and other alternative fuel programmes supported by Ford in China include one for compressed natural gas vehicles. A programme was started in 1995 to encourage sustainable resource use in China. This includes converting coal to fuel and recycling vehicles at the end of their useful life.
Germany's Volkswagen has begun to produce cars equipped with modern diesel engines in China. In 2002, the company began producing its Jetta with a suction direct injection (SDI) engine at its joint venture with First Automotive Works Corp (FAW) in Northeast China's Jilin Province. The venture plans to produce more than 10,000 diesel-powered cars this year, including 8,000 SDI Jettas.
Modern diesel engines save much more energy and are far more environmentally friendly than petrol engines.
Japan's Toyota Motor Corp will start to produce its hybrid-powered Prius car in China next year in collaboration with FAW. The introduction of hybrid cars in China will be Toyota's "active response" to the nation's new auto policy, said Akio Toyota, a Toyota board member.
A Beijing-based official of GM said that the world's No.1 automaker expects to put its hydrogen-powered vehicles into initial production in China in 2010.
"China has invested over 800 million yuan (US$97 million) in developing new automobile capabilities," said Deng Nan.
China's Dongfeng Automobile Company has developed electric buses and cars, and according to Deng, "The European II standard will be implemented nationally next year." "Our next step is to use hydrogen to replace oil in automobiles."
China will launch a policy to encourage natural gas-fuelled automobile in the near future. This should also be an important step towards an improved oil economy in the country.
"Our aim is to develop fuel cells and battery technology," said Deng.
Public awareness may be the biggest challenge.
"Once I was chatting with some taxi drivers in Beijing, they had no idea what hybrid autos were. Even those drivers who earn a living on the road know little about the future development of new or clean energy. The general public is even more ignorant," said Li Xinmin.

Today's Top News
Top China News

Peering through the smog: Can cars be clean?




Hu urges police to improve performance




Coffin of Chinese hostage back home




China's most expensive ten villas unveiled




Experts call for rescue of sperm




Putin: Regional co-op benefits continent