Coffin of Chinese hostage back home
(Xinhua)
Updated: 2004-10-17 09:21
The dead body of Wang Peng, the victimized Chinese hostage in Pakistan, returned to Jinan, the capital city of east China's Shandong Province Saturday night.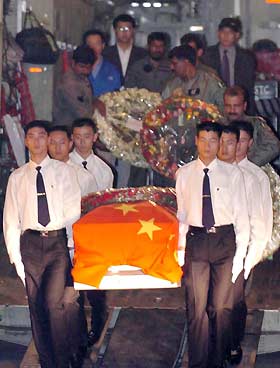 Guardsmen carry the coffin of the Chinese engineer Wang Peng in Jinan, east China's Shandong Province, Oct. 16, 2004. Wang Peng, one of the two Chinese engineers held hostage in west Pakistan's tribal region, was failed to be rescued and his coffin was transported back to China Saturday. [Xinhua]
Wang Peng was killed in a military operation launched by Pakistan forces Thursday to free the two Chinese hostages. Wang Ende, the rescued hostage, had returned to Beijing on Friday night.
On behalf of the Chinese government, Vice Governor of Shandong Xie Yutang extended condolence to Wang Peng and expressed sympathy for his family and for Wang Ende.
The Chinese side strongly condemned the terrorist act to kidnap hostages, Xie said, noting that governments and peoples of China and Pakistan will continue to make efforts for promoting friendly and cooperative ties between the two sides.
Pakistani ambassador to China Riaz Mohammad Khan extended the great grief from the Pakistani government and people, saying that it is the crime of terrorism that caused this tragedy.
The Pakistani government will ensure the security of Chinese friends there within capacity, Riaz said.
Gunmen kidnapped Wang Ende and Wang Peng, the engineers workingon a water dam and a canal in the region for the China National Water Resources and Hydropower Engineering Group Corporation, on Oct. 9 near Jandala in Pakistan's restive South Waziristan Tribal Agency bordering Afghanistan.
Chinese President Hu Jintao, Premier Wen Jiabao and other leaders attached great importance to the hostage issue and showed deep concern over the security of the hostages. In order to deal with the aftermath of the issue, the Chinese side had dispatched working teams for Pakistan.
Concerned departments of China and Pakistan will continue to make consultations over further taking effective measures to ensure the security of Chinese citizens in Pakistan, sources with the Chinese Foreign Ministry said.
Today's Top News
Top China News

Peering through the smog: Can cars be clean?




Hu urges police to improve performance




Coffin of Chinese hostage back home




China's most expensive ten villas unveiled




Experts call for rescue of sperm




Putin: Regional co-op benefits continent