Pakistan hunting for Chinese-abduction mastermind
(Xinhua)
Updated: 2004-10-16 14:32
Pakistani security forces are undertaking the hunting for Abdullah Mehsud, the brain behind the scene of the abduction of two Chinese engineers, Interior Minister Ahmad Sherpao told Xinhua Saturday.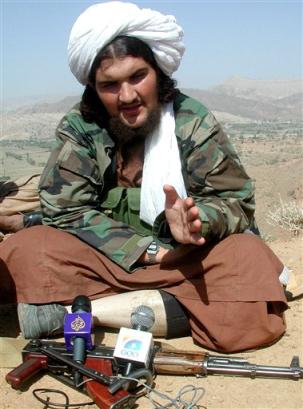 Abdullah Mehsud, a former Guantanamo Bay prisoner talks to reporters near Chagmalai on Thursday, Oct. 14, 2004 in South Waziristan along Afghanistan border. [AP]


"We are hopefully to nab the master-mind of the tragedy very soon," the minister said while talking to Xinhua at the conclusion of the fare-well ceremony for the dead body of one of the two Chinese hostages killed in Thursday's rescue operation.

Military forces are netting the terror element in the restive South Waziristan tribal region, bordering Afghanistan, said the minister.

The Pakistani side had made all efforts to achieve the safe release of the hostages through negotiations, he said.

After all the peaceful bids failed, he added, the security personnel launched the action.

"And unfortunately, one of our Chinese friends expired," said the minister.

Gunmen kidnapped the two engineers, Wang Ende and Wang Peng, last Saturday near Jandala town, South Waziristan.

The engineers had been working on a water dam and a canal in the region for the China National Water Resources and Hydropower Engineering Group Corporation.

Abdullah Mehsud, the brain behind the abducting scene, has spent over a year in US detention in Guantanamo for his involvement in the fight with US troops in 2001 in neighboring Afghanistan.

He was freed in March this year and resumed command of a team of militants in the restive South Waziristan, bordering Afghanistan.




Today's Top News
Top China News

Peering through the smog: Can cars be clean?




Coffin of Chinese hostage back home




China's most expensive ten villas unveiled




NPC weighs first law on real rights




Putin: Regional co-op benefits continent




NBA spending millions to tap Chinese market