NBA spending millions to tap Chinese market
(Agencies)
Updated: 2004-10-16 09:44
The US National Basketball Association (NBA) has spent "several millions" of dollars staging its first ever exhibition games in China as it bids to tap the rapidly expanding market, its commissioner said.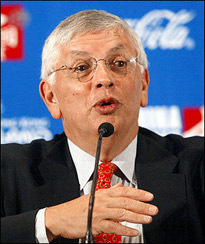 NBA commissioner David Stern, seen here addressing the press in Beijing, said he expects the NBA in China to expand in step with the country's burgeoning economy, which clocked 9.3 percent growth last year. [AFP]

David Stern said he expects the NBA in China to expand in step with the country's burgeoning economy, which clocked 9.3 percent growth last year.

"In order to bring two teams here, and over 100 NBA employees, to pay for travel, accommodation ... we have spent several millions of dollars," Stern said.

"This is an extraordinary investment in an economy and country which is the largest in the world in respects of population and an economy that is outstripping the rest of the world in terms of growth.

"Over the next 20 years, the growth of the NBA in China will mirror or parallel the growth in China."

Beijing's hosting of the 2008 Olympic Games, Stern said, was central to the NBA decision to bring the Yao Ming-led Houston Rockets and the Sacramento Kings to China for two exhibition games this week.

He said the NBA was seeking to help Beijing sports authorities stage the 2008 Olympic basketball tournament, similar to its role in Athens, and may even hold an NBA regular-season game at the Beijing Olympics basketball venue.

"We are watching with great interest the construction of the Olympic basketball stadium and we think (a regular-season NBA game) would be a great way to inaugurate it," Stern told journalists.

He also said that the Olympics had now become the top international tournament, outstripping the world championship and rivalling the NBA for excitement.

"Certainly the Olympic basketball tournament has become the pre-eminent international basketball competition," Stern told journalists.

"Central to this is that the level of basketball competition around the world has gotten better."

A star-studded US team of NBA players could only win bronze at Athens this year, losing to gold medalists Argentina and as well as Puerto Rico and Lithuania.

Stern pointed out that China, who finished eighth at the Olympics, also beat world champions Serbia and Montenegro in Athens.

"The most stunning individual result in the Olympics this year, was not that Argentina and Lithuania beat the United States, but was the win by the Chinese Olympic team over the world champions, Serbia and Montenegro," Stern said.

In the first exhibition game Thursday in Shanghai, Houston topped Sacramento 88-86, with Yao scoring 14 points and snagging seven rebounds. The second game is played Sunday.




Today's Top News
Top Sports News

Coal mine blast kills 62 workers, traps 86




Free trade pact with ASEAN in sight




Car production lower than expected




Farmers sickened by kitchen smoke




Cathay Pacific targets Air China IPO shares




Textile exports may get tariff hit