Kerry's lesbian remark angers Cheneys
(Agencies)
Updated: 2004-10-15 09:53
US Vice President Dick Cheney and his wife say they are angry at John Kerry for invoking their lesbian daughter during the final presidential debate. Kerry says he was just trying to say something nice about how the Cheneys have dealt with the issue and meant no offense.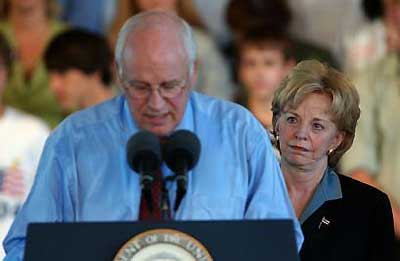 Lynne Cheney, right, wife of Vice President Dick Cheney looks on as her husband speaks to a group of about 2,000 supporters at a rally Thursday, Oct. 14, 2004, in Lakeland, Fla. [AP Photo]
Temperatures have risen sharply since the vice presidential debate, just last week, when Democrat Sen. John Edwards mentioned Mary Cheney and the Republican vice president thanked him for his "kind words."
This time, a back-and-forth ensued that had the vice president's wife, Lynne Cheney, accusing Sen. Kerry of a "cheap and tawdry political trick" and Elizabeth Edwards, wife of Kerry's running mate, suggesting Mrs. Cheney was ashamed of her daughter.
Debating President Bush Wednesday night, Kerry referred to Mary Cheney when asked whether homosexuality is a choice.
"We're all God's children," he said. "And I think if you were to talk to Dick Cheney's daughter, who is a lesbian, she would tell you that she's being who she was. She's being who she was born as. I think if you talk to anybody, it's not a choice."
Bush said he didn't know if it was a choice or not. But no one was talking about that on Thursday.
Kerry's defenders said he was well within bounds, particularly given that Cheney has also talked about his daughter when discussing gay issues.
But both the vice president and his wife went after Kerry with strong words.
"You saw a man who will do and say anything to get elected," Cheney told a rally in Fort Myers, Fla. "And I am not just speaking as a father here, although I am a pretty angry father."
He told a local TV station: "I thought it was totally inappropriate."
Mrs. Cheney was even sharper as she denounced Kerry after a debate party in the Pittsburgh suburb of Coraopolis, Pa., Wednesday night.
"This is not a good man," she said. "Of course, I am speaking as a mom, and a pretty indignant mom. This is not a good man. What a cheap and tawdry political trick."
A campaign spokeswoman said Mary Cheney declined to comment.
The communications director for Bush-Cheney, Nicolle Devenish, said Kerry miscalculated the impact of his remarks and now is "backpedaling from what is a crass, below-the-belt political strategy to attack the vice president's daughter."
She said his statement constituted "a political mistake that I think they'll pay a hefty price for."
Kerry responded Thursday that he did not mean to offend anyone.
"I love my daughters. They love their daughter. I was trying to say something positive about the way strong families deal with the issue," he said in a statement.
Edwards defended his running mate, saying the subject was clearly fair game. "Dick Cheney and his wife, Lynne, had themselves brought it up," he said on MSNBC.
Edwards' wife, Elizabeth, was harsher, suggesting that while Mrs. Cheney has been "a wonderful advocate" for her daughter, she also might be ashamed of her.
"She's overreacted to this and treated it as if it's shameful to have this discussion. I think that's a very sad state of affairs," she told ABC radio. "I think that it indicates a certain amount of shame with respect to her daughter's sexual preferences."
Some prominent politicians who have struggled with the issue said Thursday that Kerry's comments were well within bounds. "I think what John Kerry said was very kind," said Rep. Dick Gephardt (news - web sites), D-Mo., whose daughter is a lesbian.
Former Republican Rep. Steve Gunderson, who is gay, said: "It's trying to put a human face and make clear the issue of one's sexual orientation does not honor partisan lines."
Sen. John McCain (news, bio, voting record), traveling with Bush Thursday, didn't buy it.
"Maybe Sen. Kerry didn't appreciate the sensitivity" of the subject, McCain, R-Ariz., told reporters on Air Force One. "Whether intended or not, it was very inappropriate."
Mary Cheney, who is openly gay, runs operations in the vice president's campaign office.
She and her partner were an established couple and owned a house together in Colorado when Dick Cheney was picked as Bush's running mate in 2000. Mary Cheney, who had run a gay and lesbian outreach program for Coors Brewing Co., wears a gold band on her left hand.
The pair sat side by side in the vice president's box during his acceptance speech at the Republican National Convention, though neither joined the family onstage afterward, and neither was in sight for the convention finale a day later.
The Cheneys' other daughter, Liz, also works on the campaign and sometimes introduces her dad on the campaign trail.
The vice president spoke this summer about his daughter's sexuality and his view of gay relationships. He also publicly disagreed with Bush about the need for a constitutional amendment prohibiting same-sex marriages, saying he preferred that the states settle the issue.
"Lynne and I have a gay daughter, so it's an issue our family is very familiar with," Cheney told a Davenport, Iowa, audience that included his daughter. "With respect to the question of relationships, my general view is freedom means freedom for everyone."
The vice president stated no objection when Edwards, a North Carolina senator, brought up Mary Cheney during their debate last week. Edwards expressed "respect for the fact that they're willing to talk about the fact that they have a gay daughter, the fact that they embrace her. It's a wonderful thing."
Cheney thanked his opponent for the "kind words he said about my family and our daughter. I appreciate that very much."
In Wednesday night's debate, Bush and Kerry each said they believe marriage should be restricted to the union of a man and a woman, but the president supports a constitutional amendment banning gay marriage and Kerry does not. Kerry does support giving gay couples many of the civil rights that come with marriage.
Today's Top News
Top World News

Kim: DPRK seeks peace in Korean Peninsula




Hu meets Cambodia's new king in Beijing




BOC to issue US$1.45 billion in debt bonds




EU mission to decide on lifting poultry ban




Sweeping fire threatens in northeast




Putin: Growing terror attacks aimed at Bush