Bryant accuser publicly identifies herself
(Agencies)
Updated: 2004-10-15 09:34
Under orders from a federal judge, the woman accusing Kobe Bryant of rape identified herself by name Thursday in a revised version of the lawsuit she filed against the NBA star two months ago.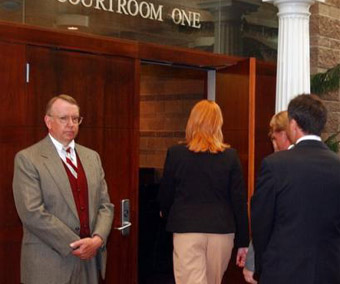 The alleged victim in the sexual assault case against NBA star Kobe Bryant, center, walks into a Eagle County Courtroom escorted by her attorney John Clune, right, as a member of Kobe Bryant's security team, left, stands by the door, in this March 24, 2004, file photo in Eagle, Colo. [AP]


The 20-year-old woman, who asked Eagle County prosecutors to dismiss the felony case against Bryant after deciding not to testify, had sought to remain anonymous in the federal civil case, though her name has been widely published on the Internet.

Her attorneys, John Clune and L. Lin Wood, argued she should not be named because she has been the subject of death threats and sordid publicity since she told police Bryant assaulted her 16 months ago. The attorneys did not return calls Thursday.

U.S. District Judge Richard Matsch last week said the woman must be publicly identified in the case as a matter of fairness. He also said her privacy had been invaded to the extent that granting her anonymity would have little effect.

Legal experts say federal judges rarely allow plaintiffs to remain anonymous, except in cases involving children or whistleblowers who fear employer retaliation. The Associated Press and other news organizations generally do not identify alleged victims of sexual assault.

Bryant's attorney, Saskia Jordan, did not return a call seeking comment.

No trial date has been set in the civil suit, which seeks unspecified damages for alleged pain and suffering and "to punish defendant Bryant for his actions and to deter defendant Bryant from repeating his criminal conduct."

Bryant, 26, has maintained that the encounter between him and the woman at the Vail-area resort where she worked in July 2003 was consensual.




Today's Top News
Top Sports News

One Chinese hostage killed, the other saved




China, Russia sign on borders, WTO entry




China's foreign trade bounces back into black




Recent natural disasters cost 1,326 lives




Japan publisher stops Rape of Nanjing comic




Bush official: Kerry advantage temporary