Eriksson tells Becks: Silence is golden
(sportinglife)
Updated: 2004-10-15 09:34
Sven-Goran Eriksson has warned David Beckham to keep quiet about his indiscretions on the pitch as he intimated his cardinal sin was not getting booked on purpose - but admitting to it in public.
With Beckham still in danger of disciplinary action, the England coach declared: "On this occasion, David should think that talking is silver, but being quiet is golden.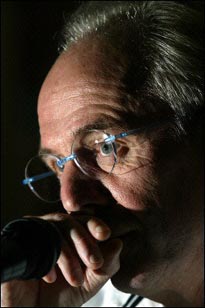 England coach Sven-Goran Eriksson at a press conference at the Hyatt hotel in Baku. Eriksson promised that he would "take care" of the controversy surrounding David Beckham's booking against Wales later this week.[AFP]

"As I said before, more or less everything is okay but don't talk (about it in public)."

Not surprisingly, Eriksson tried to draw a line under the entire controversy, which blew up after Beckham ill-advisedly admitted to having fouled Ben Thatcher on purpose.

"I think he thought about what was best for England, he thought about playing for England. Whether it was right or wrong, that's another question. For me, it's finished though," said the Swede.

However, that could yet prove to be wishful thinking, with at least some figures at the Football Association believing a charge for bringing the game into disrepute must be considered.

Beckham had imagined he was demonstrating his "cleverness" in showing how he had effectively wiped away a previous booking by getting suspended for Wednesday night's World Cup qualifier in Azerbaijan, when he was injured in any case.

Eriksson has suggested that, in future cases, the previous yellow card should stand, leaving a player like Beckham still just one booking away from a one-match ban.

"You could put in a rule that, if it's obvious a player wants to take a yellow card, he is still on a yellow card after the suspension, so he didn't gain anything from what he did," he argued.

However, that hardly addresses the issue at hand as most players would not have been stupid enough to subsequently admit their actions, while it also fails to deal with Beckham's individual case.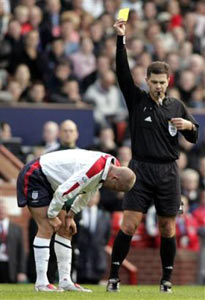 England's David Beckham is booked by referee Terje Hauge of Norway, following a tackle on Wales' Ben Thatcher during their FIFA World Cup qualifying soccer game at Old Trafford, Manchester, England, Saturday Oct. 9 2004.[AP]

Eriksson stopped short of directly condoning Beckham's tackle on Thatcher, which could have caused serious injury to either player - but only just.

"I shouldn't like to see that, no one likes to see that. But, as I tried to say before, football has always been like that," he argued.

"How many times have you seen a footballer taking a yellow card because he doesn't want to play the next game?"

Beckham may, potentially, have done it before, getting booked in the final stages of Real Madrid's Champions League quarter-final first leg against Monaco last season.

Real were 4-2 up at the time, only to lose the second leg and, while Beckham's booking ensured he would not risk missing any semi-final or final appearance, his team were knocked out in any case.

Beckham was this time hoping his public apology, made after public criticism of his actions by FIFA president Sepp Blatter, would be enough to end the matter.

Indeed, he was reassured by Football Association chairman Geoff Thompson, as well as Eriksson, that he would remain as England captain, but he is not necessarily in the clear just yet.

For there is one body of opinion within the FA that a charge of bringing the game into disrepute could still be warranted.

Indeed, at least one senior FA figure believes that if another player had made a similar admission after a Premiership game, a disciplinary charge would almost certainly ensue.

Beckham has his supporters within the FA, especially those who are anxious not to alienate the England squad any further by an international suspension of any kind, even for a friendly match.

However, the Real Madrid midfielder must wait to learn the outcome of internal FA discussions, with the governing body expected to make a statement on the matter by the end of this week.

FA head of media Adrian Bevington revealed: "We will obviously have to reflect on David's strong apology.

"Sven will advise us of his views. If there is something further to say on this subject, that will be for the FA - collectively with Sven - to say."

Eriksson will certainly be arguing his captain's case, adding: "I don't know whether FIFA and the FA are going to do anything.

"David said he was sorry for the problem he had created. He was sorry for me and the team. He was surprised at the reaction it had created. He wished all of us good luck.

"I don't know if I'm tested or not, I don't feel like that. Something happens and it seems like it's the third world war going on. But if we're a big football world, then it's like that."

It was, however, left to Blatter, who was in Baku for the game, to offer perhaps the most astute observation of all.

The FIFA president concluded: "It may be that an apology will have an influence on whatever steps the FA would take, but it still does not take away the fact that it happened."




Today's Top News
Top Sports News

One Chinese hostage killed, the other saved




China, Russia sign on borders, WTO entry




China's foreign trade bounces back into black




Recent natural disasters cost 1,326 lives




Japan publisher stops Rape of Nanjing comic




Bush official: Kerry advantage temporary