One Chinese hostage killed, another freed
(chinadaily.com.cn)
Updated: 2004-10-14 16:20
One of the Chinese engineers held hostage by militants in a Pakistani tribal region was killed and another was freed with injuries Thursday, Xinhua news agency quoted Chinese embassy sources as saying.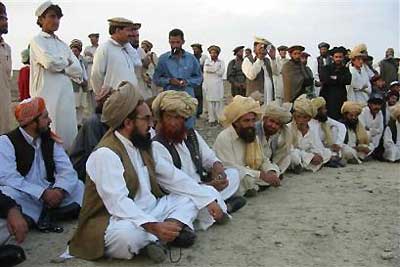 Pakistani tribal elders hold a meeting to discuss the release of Chinese engineers in Barwand of South Waziristan, Pakistan along Afghanistan border on Tuesday, Oct. 12, 2004. [AP Photo]
The injured Chinese engineer is on the way to Islamabad,the capital for medical treatment, said Xinhua report.
The raid was conducted on the midday at local time and the dead body is expected to be sent to Islamabad in the afternoon, Xinhua said.

Earlier, Pakistani military spokesman Major-General Shaukat Sultan said one of the Chinese hostages had life-threatening injuries, but the other was fine.
All five kidnappers, allegedly linked to al Qaeda, were killed in the operation, he was quoted as saying by Reuters news agency. The kidnappers comprised three Uzbeks and two militants from South Waziristan's Mehsud tribe.
"The security forces heard firing from within the compound, which created a fear that the abductors have used violence against the Chinese engineers," he said on Geo Television.
"Then immediately the security forces stormed the compound and killed all the five abductors," he said.
The operation was carried out by commandos disguised as a tribal delegation, according to the Reuters report.
Two Pakistanis held with the engineers were freed unharmed.
Two Chinese engineers, Wang Ende and Wang Peng, were kidnapped on Saturday by five gunmen near Jandala in Pakistan's South Waziristan tribal area bordering Afghanistan.

The men were working on a dam project in Pakistan for Chinese firm Sino Hydro Corp. and had been held since Saturday.
The kidnappers, with explosives strapped to their bodies, had been holed up in a mud house surrounded by security forces and their tribal allies in the Chagmalai area of South Waziristan, about 330 km (200 miles) southwest of Islamabad.
Officials said the kidnappers, at least two of whom appeared to be Arabs, had threatened to blow up themselves and their hostages if a rescue attempt was made.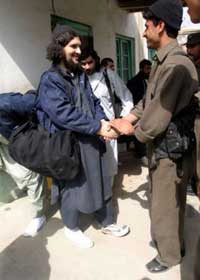 Abdullah Mehsud (L) says good bye to an Afghan policeman while leaving a Kabul prison following his release from the U.S. naval base at Guantanamo Bay in Cuba March 16, 2004. [Reuters]
Abdullah Mahsud, commander of the five kidnappers, refused an appeal by tribal elders to free the two Chinese hostages on Tuesday.
He asserted that he would not conduct any talks unless the government allows the kidnappers to leave their besieged hideout together with the hostages and reach him.
A group of tribal mediators went to Mahsud's native village near Jandola on Tuesday morning to negotiate with him but did not meet him. Some of his own cousins, also sent to meet him, could not find him.
Brigadier Mehmood Shah, chief of security of the tribal region, said elders from Mahsud's tribe telephoned him on Monday and warned him the tribe as a whole would suffer unless he freed the hostages and that he would face tribal justice, Reuters reported.
The kidnappers, witnesses said, contacted their commander over radio and sought instructions.
Mehmood Shah said the government had several options, including the use of force, but was showing restraint for the safety of the hostages, Dawn reported.
Zhang Qiyue, spokeswoman of China's Foreign Ministry, said on Tuesday in Beijing that China had urged Pakistan to take all necessary measures to beef up the protection of other Chinese expatriates there and started an emergency mechanism to handle the situation and is in 24-hour contact with the Pakistani Government.
Today's Top News
Top China News

China, Russia sign on borders, WTO entry




One Chinese hostage killed, another freed




Food price rises set to continue




China's foreign trade bounces back into black




Recent natural disasters cost 1,326 lives




Cautious land-forest conversion continues