Putin arrives in Beijing for state visit
(Agencies)
Updated: 2004-10-14 14:31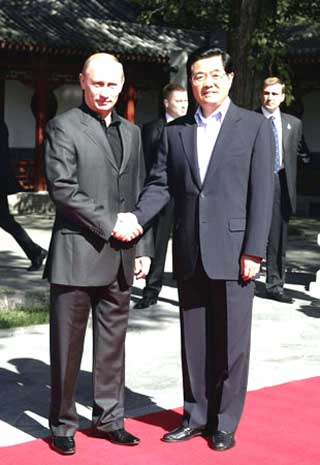 Chinese President Hu Jintao (R) shakes hands with visiting Russian President Vladimir Putin at the Diaoyutai State Guesthouse in Beijing, capital of China October 14, 2004. [Xinhua]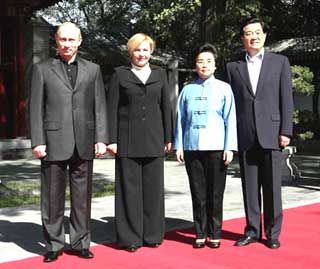 Chinese President Hu Jintao (R) and his wife (2nd R) pose for a photo with visiting Russian President Vladimir Putin (L) and his wife at the Diaoyutai State Guesthouse in Beijing, capital of China Oct. 14, 2004. [Xinhua]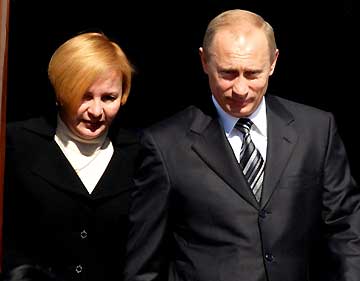 Russian President Vladimir Putin (R) and his wife Lyudmila arrive at Beijing International Airport October 14, 2004. Putin flew to China's capital on Thursday hopeful of boosting trade. [Reuters]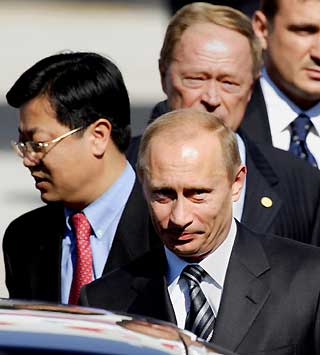 Russian President Vladimir Putin (front) arrives at Beijing International Airport October 14, 2004. Putin flew to China's capital on Thursday hopeful of boosting trade. Russian Ambassador to China Igor Rogachev stands behind him. [Reuters]
Russian President Vladimir Putin arrived in Beijing Thursday morning, kicking off a three-day state visitas guest of his Chinese counterpart Hu Jintao.
During his stay in Beijing, Putin will exchange views with Hu on issues of bilateral ties, and on international and regional issues of shared concern. Also, both countries will sign a joint communique and a series of important cooperation documents.
Putin's visit is an important part of the celebrations of the 55th anniversary of establishment of diplomatic ties between the two nations. He and Hu will attend a series of commemorative activities.
Besides Beijing, he will visit the historical city of Xi'an in northwest China's Shaanxi Province.
This is Putin's third visit to China and also his first visit in his second presidential term.