Putin: Russian oil interests come first
(Agencies)
Updated: 2004-10-14 10:24
President Vladimir Putin headed to Beijing insisting that Russia would be driven only by self-interest in deciding to supply oil to rivals China and Japan through a future Far Eastern oil pipeline.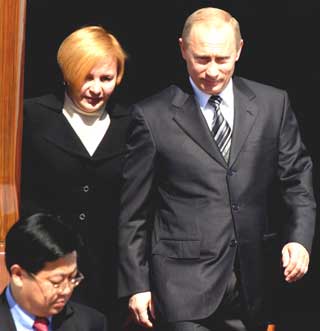 Russian President Vladimir Putin (R) and his wife Lyudmila arrive at Beijing International Airport October 14, 2004. Putin flew to China's capital on Thursday hopeful of boosting trade, but cautious not to make promises he cannot keep on long-stalled oil and gas projects to the energy-hungry giant. [Reuters]
Putin told Chinese reporters in an interview, according to a transcript released by the Kremlin, that the charged geopolitical debate over access to Russia's Siberian oil riches had not been settled yet.
Both China and Japan -- concerned about energy supplies in a tight market and eagerly eyeing reserves hidden in Russia's frozen fields -- have dangled billions of dollars in investments before the Kremlin if their preferred pipeline route is picked.
Chinese Prime Minister Wen Jiabao promised to invest about US$12 billion in the Russian energy sector and other infrastructures during a visit to Moscow last month.
But Putin pointedly said in the interview that he would rather see China put its money into sectors other than energy.
"We welcome China's plans to invest in the Russian economy," Putin said.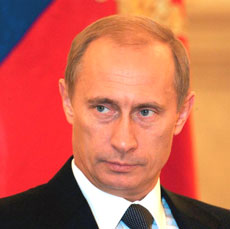 Russian President Vladimir Putin starts his China visit October 14, 2004. China and Russia are expected to sign a border deal during his visit. [Xinhua]

"But I repeat, we would like these investments to be fairly balanced... and they must first of all be focused on high-end technologies," Putin said.

The Japanese government has also vowed to invest at least US$5 billion in Russia's underdeveloped Far Eastern regions should Moscow decide to build the longer pipeline to the Sea of Japan port town of Nakhodka.

That more expensive option would have the added benefit of not only serving the burgeoning Japanese market but also potentially reaching US West Coast shores by sea.

Meanwhile, Moscow remained concerned that China could set its own cheaper terms to Russia's oil by acting as a single-end monopoly customer.

"I think you will understand me -- I will say this very openly and in all honesty," Putin told the Chinese reporters. "First of all, we have to be driven by our own national interests. We have to develop the eastern territories of the Russian Federation, the territories of the Far East."

But he promised to hold "an absolutely frank" discussion with Chinese President Hu Jintao over the project during his three-day stay.

"I am confident that we will be able to reach a decision that will satisfy both us and our partners," Putin said.

A pipeline to China would run 2,400 kilometers from the Siberian city of Angarsk -- the easternmost point in Russia's massive oil pipeline network -- to China's northeastern city of Daqing, over 1,700 kilometers of Russian territory and the rest through China.

Its latest cost estimates stand at around US$3 billion dollars but official figures vary.

A pipeline supplying Japan would cover 4,130 kilometers from the Siberian city of Taichet to the Russian port of Nakhodka and cost four times as much since it would run over much more rugged terrain and permafrost.

But it would skirt Chinese territory throughout and leave Beijing out of any transit profits or say in how the pipeline to its regional rival operates.

The cause of China -- which imported nearly 40 million barrels of oil from Russia last year, a jump of 73 percent from the 2002 figure -- has been hurt further by the recent fall of Russia's oil giant Yukos that backed the project.

Nearly half of China's oil now comes from the volatile Middle East and with the prospects of Russian oil still in the distance Beijing is already turning to contingency plans.

One includes a long and costly pipe running through to the energy-rich Caspian Sea through Kazakhstan that some analysts warn may not turn out to be economically viable.

Russia's foreign ministry on Wednesday made no mention of energy among the agreements to be signed by Putin during his stay in China, although natural gas giant Gazprom was expected to push ahead with its own separate long-term project.

The Japanese route meanwhile benefits from support of the state-run pipeline monopoly Transneft and powerful Kremlin officials who seem to have Putin's ear in a fractured Kremlin court.

The Russian ambassador in Tokyo said last month that the Japanese option had already been selected, leaving red-faced officials in Moscow to say that some mistake had been made.




Today's Top News
Top China News

Bush, Kerry trade shots on bin Laden, economy




Chen's call for talks hides real intentions




Gambling on RMB appreciation risky




Putin: Russian oil interests come first




China ranks 46th of 104 economies - Report




China to build 3rd station in Antarctica