Liu Wei wins praise from coaches on eve of duel
(Agencies)
Updated: 2004-10-14 09:46
China's national team basketball star Liu Wei, aiming to become Asia's first guard to make it in the NBA, is getting high accolades from the coaches of the Sacramento Kings with whom he is trying out.
Liu will take the floor for the Kings against Yao Ming's Houston Rockets in Shanghai Thursday in the first NBA game played in China, with Sacramento coach Rick Adelman promising to play the triallist for up to 20 minutes.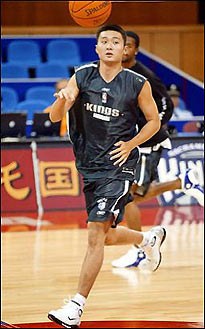 Chinese basketball international guard Liu Wei passes a ball during the NBA's Sacramento Kings' practice session at Shanghai Stadium. [AFP]

"Liu Wei will play tomorrow, I can't tell you how many minutes. Im going to play a lot of people, but I would expect you to see him playing between some 16 and 20 minutes," Adelman said.

He "is really a point guard and he competed really well in training camp", the coach added.

The 24-year old, six-foot three (1.88 meter) guard grew up in Shanghai and played 10 years with Rockets' centre Yao in junior leagues and with the Shanghai Sharks, as well as on China's national team which placed eighth in the basketball tournament at the Athens Olympics.

Whether or not he can make the King's regular season roster and play behind Sacramento's All Star guards Mike Bibby and Bobby Jackson is a key concern of China's sporting press.

"This is a good opportunity to learn from Bibby. Ive learned a lot from NBA in terms of technique, basketball and being a good person," Liu said.

"Im not going to lay lots of pressures on myself. I just want to play my best and I dont want to be carrying any burden."

If Liu can make Sacramento's team, he will join Yao, Miami Heat center Wang Zhizhi and the New York Knicks Menk Bateer as the only Chinese players in the world's top basketball league.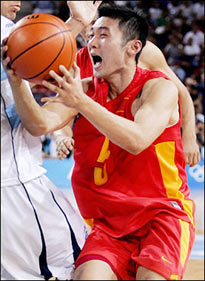 Liu Wei, seen here in August 2004, will take the floor for the Sacramento Kings against Yao Ming's Houston Rockets here Thursday in the first NBA game played in China. [AFP]

Following Thursday's clash, the two team will play a second game in Beijing on Sunday.

Meanwhile other Asian NBA hopefuls this year include Japanese point guard Yuta Tabuse, currently trying out for the Phoenix Suns and South Korea's 18-year old Ha Seung-Jin, a 2.23 meter (seven-foot three-inch) center, trying out with the Portlant Trailblazers.

Liu could have the edge as he is a bigger, more experienced guard with a lot of speed.

"He's really an exceptional passer and he's quick. He's been finding people without even looking at them. He's a real point guard," said King's assistant coach Elston Turner.

"He's certainly not afraid to play at this level. He competes. I haven't seen him back down once."

Meanwhile, the Rockets are looking to fine tune their offense with newly acquired two-time NBA scoring champion Tracy McGrady looking to mesh with Yao to bring Houston into contention for an NBA championship.

McGrady, who came to Houston from Orlando in a blockbuster seven-player deal over the summer, said he is willing to forgo his scoring load if it means that Houston can win.

"As far as my score going down, I'm really not concerned about that. My main goal is to make Yao better, to make my team better," McGrady said.

"However, I'll still be a big part of the offense. I'm not really concerned about scoring, and my scoring has been top in the league for two consecutive years, I have higher goals that I really want to achieve."




Today's Top News
Top Sports News

Bush, Kerry trade shots on bin Laden, economy




Chen's call for talks hides real intentions




Gambling on RMB appreciation risky




Putin: Russian oil interests come first




China ranks 46th of 104 economies - Report




China to build 3rd station in Antarctica