University gives Champion hurdler a leg up
(eastday.com)
Updated: 2004-10-14 09:27
One of China's brightest Olympic heroes has become a controversial figure after a Shanghai university said it would give him a large cash reward for winning a gold medal and allow him to enter a postgraduate program without taking an entrance exam.
Liu Xiang shot to fame when he won the men's 110-meter hurdles at the 2004 Athens Olympic Games. He tied the world record and became the first Chinese man to win gold in a track event.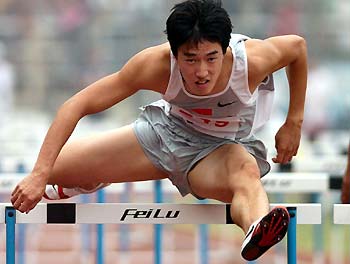 Liu Xiang clears a hurdle in China track and field final last month. [Xinhua]


East China Normal University, where Liu is currently studying, announced Wednesday that it has admitted the Olympics champion into its law school's postgraduate program, even though he hasn't taken an exam that is mandatory for other applicants.

The senior in ECNU's law school was also given a 200,000 yuan (US$24,096) bonus, university officials announced.

"As Liu has brought great honor and splendor to ECNU, we should reward him and set him as an example for other students," said university President Wang Jianpan.

Liu said he was honored by the award.

"I have been given endless applause and flowers after returning from Athens, but it's still a great reward for me," he said.

As Liu will be busy competing in International track meets for the next few years, professors will specially tailor courses for him according to his needs and schedule, school officials said.

Despite Liu's hero status, many students on campus are opposed to the university bending rules to let him into graduate courses.

Zheng Yu, a graduate student in ECNU's Chinese literature department, said she doubts Liu would be qualified to complete the degree properly.

"As a public figure and sports star, how much time can he devote to study," Zheng asked.

Meanwhile, ECNU will set up a scholarship in Liu's name to award 10 outstanding students, especially athletes in financial need.

Liu's coach Sun Haiping said that Liu would donate 8,000 yuan every year to jointly set up the "Liu Xiang Scholarship Fund" with the university starting this semester.

Scholarship winners will be granted 8,000 yuan each. But only one of the 10 candidates will get the money directly from Liu, while the rest of the awards will be allocated from the university's budget.

This is the first time the school has set up a scholarship in the name of a student, officials said.




Today's Top News
Top Sports News

Separatism undermines Chen's peace overtures




Gambling on RMB appreciation risky




Putin: Sino-Russian ties to grow




China ranks 46th of 104 economies - Report




China to build 3rd station in Antarctica




Survey to find out HIV-infected blood sellers