Yao goes back to school in China
(Agencies)
Updated: 2004-10-14 09:17
A day before starring in the NBA's first China game, Yao Ming went back to school. All the way back. The 7-foot-6 center visited his old elementary school Wednesday as part of an NBA sponsored program to promote reading.
That was just one part of the league's promotional juggernaut that has descended on Yao's hometown ahead of Thursday's exhibition game against the Sacramento Kings, the first NBA game in China.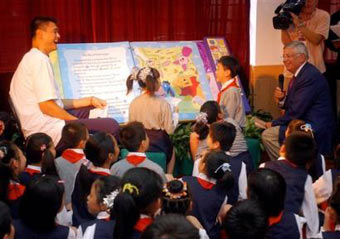 Houston Rockets' Yao Ming, top left and NBA commissioner David Stern, top right, read a story to pupils at Yao's alma mater Gaoan Lu No.1 Primary School Wednesday Oct. 13, 2004 in Shanghai, China. Chinese player Yao Ming-led Houston Rockets and the Sacramento Kings are scheduled to play a game in Shanghai on Oct. 14, 2004. [AP]


"Big brother Yao, big brother Yao," yelled students as Yao, Houston Rockets teammate Dikembe Mutombo, NBA commissioner David Stern and others strode into the tiny Gao'an Road No. 1 Primary School in a crowded neighborhood in this city of 20 million people.

Guests were serenaded by about 50 students decked out in matching blue and white uniforms, the red scarves of the Communist Party's Young Pioneers wrapped around their necks.

All but 10 minutes of the hour-long occasion were taken up by speeches and a visit from Mickey Mouse — soon-to-be-opened Disneyland Hong Kong was a sponsor.

Yao himself read a story from "Winnie the Pooh," in Chinese, with English provided by WNBA star Diana Taurasi.

"As an alumnus of this school, I want to tell you a story to teach you about the value of learning," he said in an introduction.

Earlier in the day, Yao worked out at Shanghai's heavily refurbished city gym with new Houston acquisition Tracy McGrady and the rest of the team.

McGrady, the NBA's leading scorer, said he looked forward to pairing with Yao, even though he expects to score less.

"I'm really not concerned about that," the guard said Wednesday. "My main goal is to make Yao better, to make my team better. Obviously, my scoring will go down because we're going to try to have Yao go on offense a lot."

Houston coach Jeff Van Gundy said McGrady, Yao and Jim Jackson will be among the starting five Thursday. A second game between the teams will be held in Beijing on Sunday.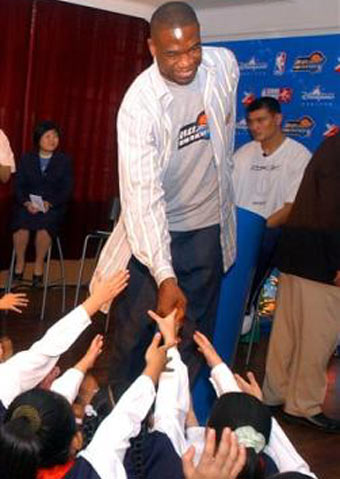 Houston Rockets' Dikembe Mutombo, top, shake hands with pupils at Yao Ming's alma mater Gaoan Lu No.1 Primary School Wednesday Oct. 13, 2004 in Shanghai, China. [AP]


Yao is hugely popular in Shanghai and his return has dominated headlines. His image looks down from a five-story poster fronting the team's hotel. Other ads featuring Yao pitching everything from soft drinks to cell phones are all over town.

"I hope that he enjoys his moment because he has worked very hard to come home (to Shanghai) with the NBA," Van Gundy said.

Kings coach Rick Adelman understands most of the attention would be on Yao and the Rockets.

"He's a great player in our league, he's kind of bridged the gap between NBA basketball and Chinese basketball. He's had a huge impact on our game," Adelman said.

"But they picked our team to come here, too," he added. "I think that's a complement to our players and how they've played."

Adeleman said China's latest NBA hopeful, point guard Liu Wei, will make his debut with the Kings on Thursday. Liu, a teammate of Yao's on China's Olympic team, was invited to the Kings' training camp in July.

"I'm not thinking too much about it right now and trying not to give myself too much pressure," said Liu, a star of Yao's old team, the Shanghai Sharks. "I'm just enjoying myself and trying to learn as much as possible."

Kings guard Mike Bibby said Liu already exceeded expectations.

"Coming in, nobody expected for him to be doing what he's been doing. He's a real good player, he's smart ... he's quick," Bibby said. "He has good things ahead of him."




Today's Top News
Top Sports News

Bush, Kerry trade shots on bin Laden, economy




Chen's call for talks hides real intentions




Gambling on RMB appreciation risky




Putin: Russian oil interests come first




China ranks 46th of 104 economies - Report




China to build 3rd station in Antarctica