Beckham apologizes for yellow card ploy
(Agencies)
Updated: 2004-10-14 09:09
David Beckham apologized Wednesday for the yellow card ploy that earned him a convenient World Cup suspension. He hopes that will be enough to avoid any punishment and allow him to remain England's captain.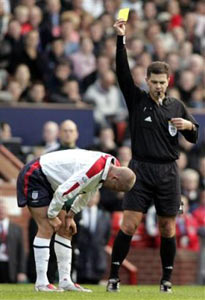 England's David Beckham is booked by referee Terje Hauge of Norway, following a tackle on Wales' Ben Thatcher during their FIFA World Cup qualifying soccer game at Old Trafford, Manchester, England, Saturday Oct. 9 2004.[AP]

FIFA president Sepp Blatter, who had urged English soccer authorities to take action, welcomed the apology but said it wouldn't necessarily keep Beckham out of trouble.

"It makes a difference," Blatter told BBC Radio. "It will give to those who judge such an action some positive circumstances, but you cannot just forget what has happened."

Beckham knew he would miss Wednesday's game at Azerbaijan because he broke a rib during Saturday's 2-0 victory over Wales. Carrying a yellow card from a previous game, he fouled Welsh defender Ben Thatcher so he could serve the automatic ban while injured.

England beat Azerbaijan 1-0 without Beckham, with stand-in captain Michael Owen scoring the only goal. Beckham will start with a clean slate for the next World Cup qualifying games.

"I now know that was wrong and apologize to the Football Association, the England manager, my teammates and all England fans for this," Beckham said. "I have also apologized personally to my manager Sven-Goran Eriksson.

"I know that as captain you are in a privileged position and must always abide by FIFA's code of fair play, something which I have always done throughout my career. On this occasion I made a mistake."

Football Association chairman Geoff Thompson said that because Beckham apologized for an "error in judgment" he should be able to remain captain. However, he said the decision was up to Eriksson.

After the match, Eriksson said, "Did I ever doubt that Beckham should carry on as England captain in the future? No way. I have never doubted that. Of course I appreciate his apology. I haven't read it exactly as I was with the team. But that's very good."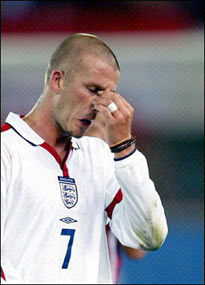 David Beckham's future as England captain is assured after the Football Association (FA) made it clear there would be no action taken against him over his admission that he had deliberately fouled an opponent to get a convenient yellow card.[AFP]

Blatter said Beckham clearly set a poor example.

"Where are we going when football's ambassadors do not show fair play?" Blatter told Sky Sports television. "David Beckham is a role model for young children, an ambassador of football and an ambassador of fair play. ... We are concerned at the attitude, the possible bad attitude, of the player."

After being criticized in Sunday's newspapers for his reckless foul on Thatcher, Beckham said he had done it on purpose.

"I am sure some people think that I have not got the brains to be that clever, but I do have the brains. ... I knew I will be out for a few weeks, so I thought: `Let's get the yellow card out of the way,'" he told British newspapers.

Beckham also was criticized by Geoff Hurst, the only player to score a hat trick in a World Cup final when he starred in England's 4-2 victory over West Germany in 1966.

"It saddens me," Hurst said. "I would argue that it brings the country into disrepute. I can't possibly imagine that happening in our time."




Today's Top News
Top Sports News

Separatism undermines Chen's peace overtures




Gambling on RMB appreciation risky




Putin: Sino-Russian ties to grow




China ranks 46th of 104 economies - Report




China to build 3rd station in Antarctica




Survey to find out HIV-infected blood sellers