Two in court over Beijing trampling case
By Liu Li (China Daily)
Updated: 2004-10-14 09:01
The trial began Wednesday at the Beijing No 2 Intermediate People's Court of two people suspected of being responsible for an accident that killed 37 people in the city's Miyun County on February 5.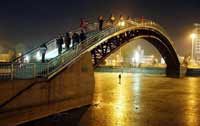 A file photo shows the site of a stampede on a bridge which left 37 people dead, at Miyun, a northern suburb of Beijing Feb. 6, 2004.[File]

Sun Yong, former director of the Chengguan Police Station in Miyun and Chen Bainian, former political commissar of the station, were charged with dereliction of duty by the No 2 Branch of the Beijing Municipal People's Procuratorate.

Sources with the court and the procuratorate declined to comment on the case.

Tragedy struck at a traditional Lantern Festival gathering on February 5 in Mihong Park in Miyun County, causing people to be trampled on the park's Caihong Bridge.

The accident was later proved by the procuratorate to have been the result of criminal responsbilities.

Sun and Chen failed to fulfil their public security duties during the Lantern Festival gathering, according to the public prosecutor, who believed their negligence directly resulted in the accident.

Qian Lieyang, the lawyer representing Sun, said Wednesday he had appealed for his client not to be harshly punished.

"Sun alone would have been unable to cause such a serious accident. There are many other reasons behind the accident," Qian said Wednesday.

Liu Yan, Chen's lawyer, claimed that the former political commissar was innocent.

"Although Chen is responsible for the accident, his behaviour did not match the crime of dereliction according to Criminal Law," he said yesterday.

Earlier this year, Xia Qiang, secretary of the Miyun County Committee of the Communist Party of China, was disciplined within the Party over the accident.

County head Zhang Wen admitted his mistake and resigned.




Today's Top News
Top China News

Separatism undermines Chen's peace overtures




Gambling on RMB appreciation risky




Putin: Sino-Russian ties to grow




China ranks 46th of 104 economies - Report




China to build 3rd station in Antarctica




Survey to find out HIV-infected blood sellers