Teflon-coated cookware safe to use
By Jiang Zhuqing (China Daily)
Updated: 2004-10-14 09:01
Teflon-coated cookware is safe, a quality watchdog said Wednesday.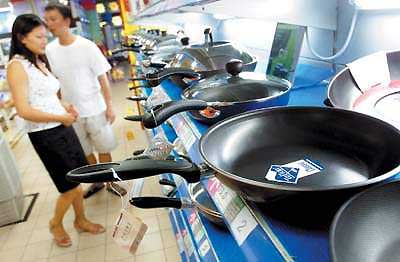 Customers look at non-stick cookware in a supermarket in Guangdong. [file photo]
A sampling of 28 different teflon-coated pans from 18 different manufacturers showed no traces of perfluorooctanoic acid (PFOA), a potentially toxic chemical used to produce teflon.
Any health or environmental worries are baseless, said a report released by the newly-established Chinese Academy of Inspection and Quarantine.
The samples tested represent about 90 per cent of all the teflon pans sold on the market.
The results were reviewed by an independent expert panel, organized by the General Administration of Quality Supervision, Inspection and Quarantine, including academicians of the Chinese Academy of Sciences. The panel unanimously agreed that the results are reliable.
Xu Yang, public affairs manager of the DuPont China Holding Co Ltd, said DuPont "welcomes and expresses satisfaction with the results of the test."
In early July, great unease was aroused among Chinese users of non-stick teflon-coated cookware after the US Environmental Protection Agency (EPA) alleged that Delaware-based DuPont repeatedly failed to report information about the health and environment risks from PFOA over a 20-year period.
Today's Top News
Top China News

Separatism undermines Chen's peace overtures




Gambling on RMB appreciation risky




Putin: Sino-Russian ties to grow




China ranks 46th of 104 economies - Report




China to build 3rd station in Antarctica




Survey to find out HIV-infected blood sellers