Israel strikes Gaza militants after renewed threat
(Agencies)
Updated: 2004-10-14 08:46
Israeli air strikes killed three Hamas militants in Gaza just after the Islamic group renewed its threats on Wednesday to continue rocket attacks against Israelis despite a massive army raid aimed at stopping them.
Israel also dealt an additional blow to the militant group, arresting a West Bank leader held responsible for a twin suicide bus bombing that killed 16.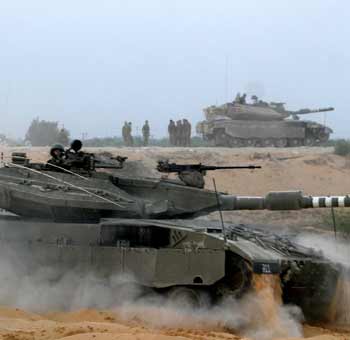 An Israeli tank moves to a temporary camp at the entrance to the Gaza Strip, October 13, 2004. Israel dealt a double blow to the Palestinian Islamic group Hamas on Wednesday, arresting a West Bank leader held responsible for a twin suicide bus bombing that killed 16 and killing a militant in a Gaza air strike. [Reuters]

Israeli missiles killed the gunmen in separate strikes late on Wednesday in refugee camps in northern Gaza, where over 200 tanks and armoured vehicles have been operating to root out militants who fire rockets into Israel.

Israel began the raid after two Israeli toddlers were killed in a rocket strike on the town of Sderot on September 29, an attack that fueled right-wing opposition to Prime Minister Ariel Sharon's plan to evacuate Israelis from Gaza by the end of 2005.

Militants want to claim any pullout as a victory. Israel is determined to smash them first.

Ninety-eight Palestinians have been killed in 16 days of fighting. At least 56 of them were militants and most of the rest were believed to be civilians, Palestinian medics say. Israel says the vast majority of Palestinian dead were gunmen.

Three Israelis and a Thai worker have also been killed.

Israel has vowed to continue its northern Gaza offensive, one of its biggest and bloodiest in four years of conflict, until the rocket attacks stop.

A new custom-built early warning radar installed in Sderot passed its first live test on Wednesday, alerting residents 20 seconds ahead to incoming Qassam rockets in time for them to take cover, officials said.

Hamas, an Islamic group sworn to Israel's destruction, vowed to upgrade its makeshift rockets and keep firing them despite the Israeli offensive and the new radar system.

Two other gunmen were killed by a tank shell as armoured Israeli forces thrust deep into the northern Gaza town of Beit Lahiya on Wednesday, which the army said was the origin of the latest wave of rocket launches.

In the West Bank city of Hebron, Imad al-Kawasme, Hamas's commander in town, was arrested on Wednesday by Israeli troops on suspicion of masterminding Aug. 31 suicide attacks on two buses in the Israeli city of Beersheba.

Hamas claimed responsibility for the attacks in Beersheba. Israeli security officials said the two suicide bombers made their way from Hebron over the southern West Bank's unfenced boundary with Israel and on to Beersheva.




Today's Top News
Top World News

Separatism undermines Chen's peace overtures




Gambling on RMB appreciation risky




Putin: Sino-Russian ties to grow




China ranks 46th of 104 economies - Report




China to build 3rd station in Antarctica




Survey to find out HIV-infected blood sellers