Chen's call for talks hides real intentions
By Xing Zhigang (China Daily)
Updated: 2004-10-13 00:02
Beijing firmly rejected Taiwan leader Chen Shui-bian's call for cross-Straits talks Wednesday, saying his intensified separatist activities have betrayed his peace overture.
Zhang Mingqing, a spokesman for the Taiwan Affairs Office of the State Council, warned that Chen's obstinate pro-independence drive will bring the island catastrophe rather than stability and prosperity.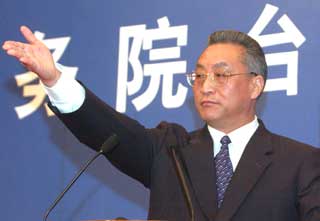 Zhang Mingqing, spokesman of the Taiwan Affairs Office of the State Council, said Chen Shui-bian's speech on October 10 constitutes to a grave provocation to peace and stability across the Taiwan Strait at a press conference Wednesday morning in Beijing. Chen solicits a question in this November 26, 2003 file photo at a press conference in Beijing. [newsphoto]

His comments came at a regular news conference after Chen called on Sunday for peace talks and "code of conduct" across the Taiwan Straits.

In a "national day" speech, the Taiwan leader said his administration is willing to prepare for the resumption of bilateral negotiations on the basis of the 1992 meeting in Hong Kong.

Zhang, however, described Chen's peace proposal as "nothing but a lie to deceive the Taiwanese public and international opinion."

He noted that Chen's advocacy of Taiwan as an independent country throughout his speech represents another grave provocation to cross-Straits peace and stability.

"Is there any point in his call for bilateral negotiations when Chen stubbornly sticks to his separatist stance of 'one country on each side' (of the Taiwan Straits)?" the spokesman asked.

He suggested that cross-Straits dialogue will not be resumed unless Taipei accepts an informal verbal agreement reached at the 1992 meeting that both sides of the Taiwan Straits adhere to the one-China principle.

Beijing has called the informal deal the 1992 Consensus, which led to a series of ice-breaking meetings between Taiwan and the mainland.

Chen, however, has denied the existence of the 1992 consensus in a bid to shun the one-China principle that both Taiwan and the mainland are part of China.

Zhang stressed that the Taiwan leader has stepped up his push for formal independence since he started his second four-year term in May.

Under Chen's leadership, the Taiwan authorities have been forging ahead with the so-called "constitutional" re-engineering project to permanently split the island from China.

Meanwhile, the island is accelerating its arms build-up through a plan to buy NT$610.8 billion (US$18.2 billion) worth of US-manufactured anti-missile systems, planes and submarines.

Taiwan "premier" Yu Shyi-kun has even called for a "balance of terror" across the Straits to counter the mainland's fight against "Taiwan independence.''

"Chen claims he wants to ease cross-Straits tension and confrontation, but his remarks irresponsibly seek to attack the mainland in order to undermine bilateral ties," Zhang told the press conference.

"All the facts have proven that his conciliatory move is false and his pro-independence bid is true."

The spokesman cautioned that Chen's separatist push is the root cause of the severe cross-Straits situation and "Taiwan independence'' poses the biggest threat to peace in the Straits as well as security in the Asia-Pacific region.

As safeguarding national sovereignty and territorial integrity is in the core interests of China, the Chinese people will never allow anybody to split Taiwan from the motherland in any form, according to Zhang.

He called on Taiwan compatriots to join with the mainland in opposing Taiwan independence and maintaining cross-Straits peace.

"The pursuit of 'Taiwan independence' does not lead to peace, nor national dismemberment to stability," Zhang said.

"Chen's further push for independence will bring about great disasters instead of stability and prosperity to the island."

As for Taipei's proposed charter flights across the Straits in the 2005 Spring Festival, Zhang said the air links should be taken as domestic affairs and in line with the principle of being direct, two-way and mutually reciprocal.

That means both Taiwan and mainland airlines should be allowed to operate charter flights without stopovers in a third place.

During the 2003 Spring Festival period, Beijing agreed to a charter flight scheme that required charter planes to travel via Hong Kong or Macao and completely excluded the participation of mainland airlines.

But the indirect and one-way charter flight programme was finally grounded during the 2004 Spring Festival because of Taiwan's refusal to allow these flights to be direct and two-way.

The island has banned direct air and shipping links with the mainland for more than five decades.




Today's Top News
Top China News

Bush, Kerry trade shots on bin Laden, economy




Chen's call for talks hides real intentions




Gambling on RMB appreciation risky




Putin: Russian oil interests come first




China ranks 46th of 104 economies - Report




China to build 3rd station in Antarctica