Exhausted Liu Xiang learns to say no
(eastday)
Updated: 2004-10-13 14:37
Liu Xiang, the Olympic gold medalist in the 110 meters hurdles, is likely going to the United States.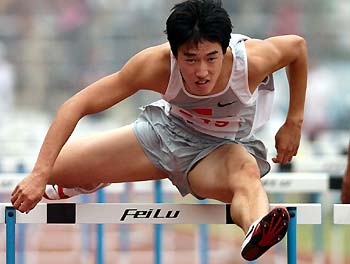 Liu Xiang clears a hurdle in China track and field final last month. [Xinhua]
It's strange. He's not joining a US team, but is searching for a quiet place to train.
A September report in the Oriental Morning Post quoted Liu's coach Sun Haiping as saying: "We are both mentally and physically exhausted. Perhaps the only way to ensure normal training is going abroad."
Since Liu returned from Athens, he has been overwhelmed with activities, from meeting the city's top officials to attending business promotion activities.
Some people even joke that they know Liu's daily itinerary from reading newspapers. The natural result of so tight a schedule is that he doesn't have enough time for training.
Coach Sun said, "In his current condition, he can't achieve anything in upcoming races."
Now Liu needs to learn how to be a public figure, rearrange his life, and more importantly, learn to say NO to others.
As Liu is so amiable and easy to approach, and is good at speaking with the media, he now enjoys the same popularity as Yao Ming. The media continuously depicts him as a classic success story based on hard work.
It is because of his good character that has attracted so many fans.
What journalists look for are interesting stories from him that can sell more newspapers. What businesses look for are better sales from Liu's commercial endorsements. And officials want media exposure about their concern for athletes.
But if he doesn't continue winning races, all these things will disappear. He may even be criticized.
This is why the kind-hearted, filial son should be gently reminded that the world isn't as kind as he is.
Liu should take the initiative to say "NO." If Liu's schedule continues to be filled with social activities we will soon lose a world class athlete.
Today's Top News
Top Sports News

Bush, Kerry trade shots on bin Laden, economy




Chen's call for talks hides real intentions




Gambling on RMB appreciation risky




Putin: Russian oil interests come first




China ranks 46th of 104 economies - Report




China to build 3rd station in Antarctica