Arafat cousin survives bomb attack
(Agencies)
Updated: 2004-10-13 14:31
Moussa Arafat, cousin of Yasser Arafat and a top Palestinian security chief, has survived an apparent car bomb assassination attempt in Gaza City in an attack that signals deepening internal faction fighting.
The bomb exploded moments after Moussa Arafat left his office in a heavily guarded convoy on Tuesday. Witnesses said nobody in his entourage was hurt.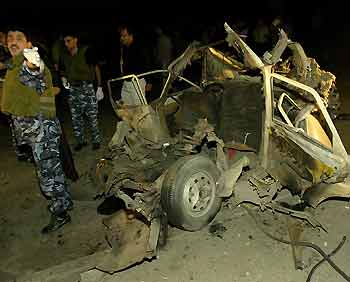 A Palestinian policeman stands next to the wreckage of a car bomb that exploded near the convoy of Palestinian security chief Moussa Arafat, cousin of Yasser Arafat, as it left his headquarters in the Gaza Strip October 12, 2004. It was not immediately clear whether he was hurt in the blast, which occurred shortly after his convoy passed the parked car. [Reuters]

There was no immediate claim of responsibility for the blast, but Moussa Arafat's appointment in July came at the heart of the worst turmoil since Palestinians gained a measure of self-rule a decade ago.

He has also been at odds with militants fighting Israel and accused by one group of trying to kill its own leader.

"This is an assassination attempt and this is not the first time. A car was blown up by remote control. We have started investigating and we will find out who was behind it," Moussa Arafat told Reuters.

Chaos in the Gaza Strip has been fuelled by a power struggle ahead of Israel's planned withdrawal from the occupied territory next year.

Moussa Arafat is seen as part of an old guard accused by many Palestinians of corruption and incompetence for failing to win a state. On the other side are younger leaders who say they are acting in the name of reform.

Palestinian president Yasser Arafat was forced to effectively demote his cousin from an even more senior post after an outcry by factions demanding anti-corruption reforms who attacked police stations in Gaza and briefly took several hostages.

The Jerusalem Post reported last month that the Popular Resistance Committees, an alliance of militant groups in Gaza, accused Moussa Arafat of trying to assassinate its leader, Mohammed Nashabat, and threatened to retaliate.




Today's Top News
Top World News

Chen's speech a grave provocation to peace




China to lobby for 4th round six-party talks




Further negotiations needed to free engineers




Tax revenue growth slows down




China to amend Criminal Procedure Law




US urged to abide by one-China principle