F-1 races face uncertain future
(Agencies)
Updated: 2004-10-13 09:35
Turkey can expect a debut Formula One grand prix next year while a question mark hangs over Britain, France and San Marino.
Commercial supremo Bernie Ecclestone will submit his draft calendar to the International Automobile Federation (FIA)'s world motor sport council in Paris on Wednesday with some European races fighting for survival.
Turkey, building a circuit near Istanbul, is being billed as the next big thing after the arrival of state-of-the-art tracks in China and Bahrain this year.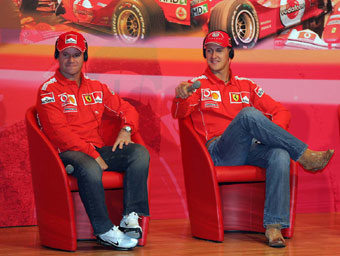 Ferrari's seven-time Formula One champion Michael Schumacher (R) and teammate Rubens Barrichello react to a question during a press conference in Shanghai, September 22, 2004. [newsphoto]


Silverstone, Magny Cours and Imola are all at risk although Britain's hopes of remaining on the calendar were looking considerably brighter on Tuesday.

"There will be two or three races announced with asterisks on them," FIA president Max Mosley told reporters at the Japanese Grand Prix last weekend.

Although Ecclestone earmarked an unprecedented 19 dates earlier in the year, it could still be some months before the final shape of the championship is decided.

When Ecclestone issued his draft 2004 calendar in September 2003, there were asterisks against four races and Canada was missing altogether.

By mid-October, Canada was back in business but it took France until mid-January to do a deal over Magny-Cours.

SILVERSTONE HOPEFUL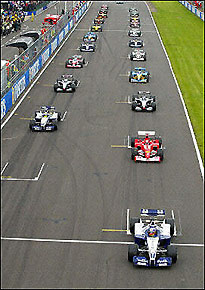 The starting grid at Silverstone. The British Grand Prix at Silverstone is to be included on Formula One's draft 2005 calendar when it is published on Wednesday, according to sources close to the negotiations. [AFP]

Silverstone, which hosted the first Formula One grand prix in 1950, has yet to agree a deal but officials were confident it would be included.

"I am very hopeful that the British Grand Prix will be on the calendar for next year even though it may be subject to contract," the BBC quoted British Sports Minister Richard Caborn as saying on Tuesday.

"I am also hopeful that we will get a two-year deal which will allow us to sit down and plan to realise the full potential of the Silverstone estate."

The 'Concorde Agreement' which governs the sport envisages a 17-race calendar with anything extra requiring the agreement of the FIA and teams.

With the arrival of Turkey, which can expect to have an asterisk against it as all new circuits have to be approved by the governing body, Ecclestone must either shed two races or get the teams onside.

Silverstone could be one, although Mosley and the teams are adamant it must stay, while the axe is also hovering over Imola after Ecclestone said in January that this year's race would be the last there.

Ferrari and the Italian government have been trying to change his mind but Ferrari boss Jean Todt sounded fatalistic when asked about it last week.

"Imola doesn't belong to us. The Formula One calendar doesn't belong to us," he said in Japan. "Of course there are some grands prix that we do prefer but we are talking about a worldwide championship.

"If we are talking about covering the whole world with new markets, then you must accept Grand Prix like China, like Bahrain and like Turkey. You cannot have an unlimited number of Grands Prix, you must accept to lose some in Europe."

Magny-Cours, struggling for funding to secure the race, hung on by the skin of its teeth last year after a deadline was pushed back and a contract finally agreed in January.

The race, in open countryside miles from any major city, is a home round for Renault but little loved by sponsors and teams. Olivier Panis, the only French driver in the sport this season, has also hung up his race helmet.




Today's Top News
Top Sports News

Bush, Kerry trade shots on bin Laden, economy




Chen's call for talks hides real intentions




Gambling on RMB appreciation risky




Putin: Russian oil interests come first




China ranks 46th of 104 economies - Report




China to build 3rd station in Antarctica