'Iran will never give up its right to enrichment'
(Agencies)
Updated: 2004-10-13 08:50
The European Union cannot force Iran to give up its right to enrich uranium, Iran's foreign minister said, dealing a blow to EU efforts to halt the process and ease fears Tehran is seeking a nuclear bomb.
"It is wrong for them (the EU) to think they can, through negotiations, force Iran to stop enrichment," Foreign Minister Kamal Kharrazi told a conference in Tehran on Tuesday. "Iran will never give up its right to enrichment."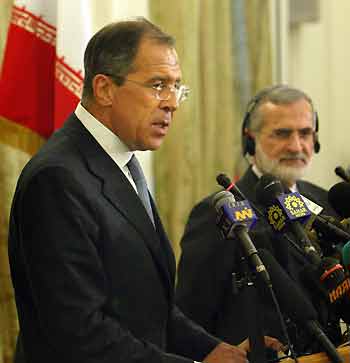 Russian Foreign Minister Sergei Lavrov talks to the media while his Iranian counterpart Kamal Kharrazi (R) looks on in Tehran October 10, 2004. Russian and Iran may sign an agreement on the supply of Russian nuclear fuel to Iran in the nearest future, Sergei Lavrov said. [Reuters]

Diplomats said the EU had agreed on Monday to prepare a package of "carrots and sticks" to get Iran to comply with demands by the U.N.'s International Atomic Energy Agency (IAEA) to suspend enrichment activities -- a process which can be used to make material for atomic bombs.

Washington is working with the EU on the plan in a final effort to get Iran to cooperate with the IAEA, but is unlikely to offer any specific new incentives of its own, said a senior U.S. official.

Officials in Washington said the United States wanted a commitment from the Europeans that they would back sanctions if Iran insists on continuing its nuclear activities.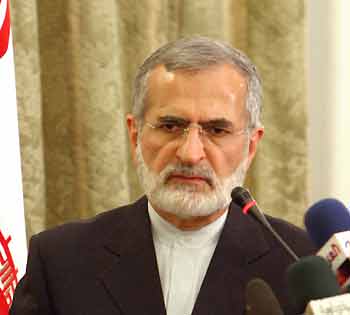 Iranian Foreign Minister Kamal Kharazi talks to the media during a news conference in Tehran October 10, 2004. [Reuters]

Iran says its nuclear program is for electricity generation and says it wants to master the full fuel cycle, including enrichment, so it does not have to rely on imported fuel. Washington believes the program is aimed at developing atomic weapons.

EU ministers had urged Russia, which is building an atomic plant in Iran despite strong U.S. criticism, to join the initiative. But a foreign ministry official in Moscow said on Tuesday Russia thought the EU proposals would be ineffective.

Russia maintains that Iran has an entirely peaceful nuclear program and cannot use Moscow's atomic know-how to make arms.

Although Iran is not enriching uranium at present, it is preparing a large batch of raw uranium ready for the process and has resumed building enrichment centrifuges in defiance of a previous agreement with Britain, Germany and France.

The IAEA called on Iran last month to halt such activities and said it may be sent to the Security Council if it failed to do so by the next IAEA board meeting on Nov. 25.

Kharrazi said it was up to the EU to make proposals "that safeguard our right to nuclear technology for peaceful ends" while he provided assurances to the world that Tehran is not building atomic weapons.

The IAEA said on Monday that equipment and material that could be used to make atomic weapons had been disappearing from Iran's western neighbor, Iraq.

Western diplomats said the agency feared the U.S.-led war aimed at disarming Iraq may have unleashed a proliferation crisis, if looters had sold nuclear equipment.

"If some of this stuff were to end up in Iran, some people would be very concerned," a diplomat close to the IAEA told Reuters. "The IAEA's big concern would be profiteering, people who would sell this stuff with no regard for who is buying it."

As a signatory of the nuclear Non-Proliferation Treaty, Iran is entitled to enrich uranium under IAEA supervision. A senior IAEA team arrived in Iran on Monday, state television reported.

It said the IAEA team hoped to clarify outstanding questions about Iran's nuclear program and to visit several facilities including the Parchin military base near Tehran which some diplomats have cited as a possible covert atomic arms site.

The IAEA has so far said it has found no evidence of a nuclear weapons program in Iran but that some outstanding issues need to be clarified.