President pledges support to UN, Annan
By Meng Yan & Jiang Zhuqing (China Daily)
Updated: 2004-10-12 23:40
President Hu Jintao Tuesday pledged China's continued support for the United Nations and its international authority.
In a meeting with UN Secretary-General Kofi Annan, Hu said China would also support UN reforms.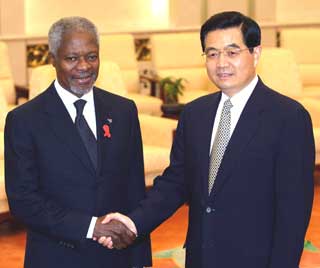 Chinese President Hu Jintao (R) greets U.N. Secretary-general Kofi Annan in Beijing October 12, 2004. Annan is in China for a five-day official visit. The United Nations must show it is tough enough to ensure the security of its members so that individual countries do not take measure into their own hands, Annan said on Monday. [Reuters]

"We support the United Nations and the UN secretary-general to play an important role in international affairs," Hu was quoted by a foreign ministry spokesman as saying.

He said the UN, the most representative and authoritative inter-governmental organization, provides a vital arena for the practice of multilateralism and international collaboration.

A powerful United Nations can help guide the world on major issues of peace and development, he said, and the UN Charter should guide international relations.

Annan thanked Hu for the Chinese Government's long standing support both for the UN and himself.

He said China has growing influence on international affairs and has become a major force in the cause of world peace and development.

The country, he added, has achieved positive results in achieving the Millennium Development Goals set by the UN.

Annan said the UN reforms, aimed at better preparing the UN to meet modern threats and challenges, need the support of member countries, including China.

Annan Tuesday also said that China has played a "central role in the international community's response to threats against international peace and security."

He made the remarks after watching a training excise by Chinese peacekeeping police at the China Peacekeeping CIVPOL (Civilian Police) Training Centre in Langfang, Hebei Province.

He said peacekeepers from China have done an outstanding job and set up a high standard in peacekeeping operations in the past.

The world is looking for China to play a more direct part in peacekeeping and other operations mounted by the international community to bring an end to conflict and help war-torn countries rebuild their societies, he said.

The UN Security Council has authorized the deployment of another 30,000 uniformed personnel around the world, Annan said.

There are 50,000 already in the field.

Once an official in charge of UN peacekeeping operations, Annan said he is "always excited when meeting with fellow peace-keepers."

"Peace-keeping is a challenge, an exciting thing but it is also difficult," Annan said. "You are called upon to operate far away from home in different cultures, sometimes in different languages and try to work with the local population to bring peace."

Peacekeepers need patience and compassion, he said.

The Ministry of Public Security (MPS) is training more qualified peacekeeping police officers and plans to dispatch more personnel to UN missions, said China's Vice-Minister of Public Security Yang Huanning.

China will dispatch a formed police unit of riot police to Haiti on October 17, MPS officials said.

Zhao Xiaoxun, head of the contingent, said the contingent is trained and ready for what may await them in war-torn Haiti.

"My biggest hope is that all the members of the unit will return home safely after their six-month term ends," Zhao said.

To date, China has dispatched 297 peacekeeping police to East Timor, Bosnia-Herzegovina, Kosovo, Liberia, Afghanistan and Haiti. Of those, 92 are still working abroad.

After visiting the peacekeeping training centre, the Secretary-General also visited a farm in Beijing and an HIV/AIDS testing centre affiliated with the Chaoyang District Centre for Disease Prevention and Control in Beijing.

The fight to eradicate discrimination against HIV/AIDS patients is important, said Annan, adding that he is glad to see that the Chinese Government has earnestly launched a campaign to fight against AIDS.




Today's Top News
Top China News

China to lobby for 4th round six-party talks




Tax revenue growth slows down




China to amend Criminal Procedure Law




US urged to abide by one-China principle




President pledges support to UN, Annan




Beijing to get water from Hebei, Shanxi