Crisis over, Afghanistan heads for vote count
(Agencies)
Updated: 2004-10-12 09:12
With a threatened boycott of its historic presidential election firmly relegated to the background, Afghanistan took first steps on Tuesday to begin counting votes.
During the day, the Afghan-U.N. Joint Election Management Body will decide which ballots are suspicious and how to deal with them. The actual count will begin on Wednesday morning, election officials said.
President Hamid Karzai's chief rival, Yunus Qanuni, said on Monday that he and several other candidates had decided to withdraw the call to boycott Saturday's landmark election that was issued after suspicions emerged of illegal multiple voting.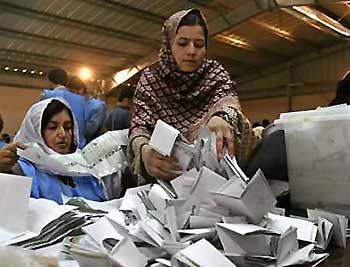 Afghan election workers sort ballots at a counting center in Kabul October 11, 2004. Afghan officials delayed counting ballots on Monday after the historic presidential election to deal with complaints of fraud, but several candidates appeared to be pulling back from an initial decision to reject the vote.[Reuters]

"We want unity in this election, not a boycott," he told reporters. "The people want it and we appreciate their feelings."

For the Tajik commander, a hero of the resistance to Soviet occupation and the hardline Taliban regime, to talk of popular sentiment shows how much Afghanistan has changed in recent years.

The impoverished, Islamic nation has been torn by war for over a quarter century and has not held any form of election since the late 1960s. It has never directly chosen a leader.

Karzai, a member of the majority Pashtun community, was picked to head a transitional government after the Taliban militia was ousted by U.S.-led forces for refusing to hand over al Qaeda chief Osama bin Laden in late 2001.

Afghanistan's patchwork of fiercely independent ethnic groups and often warring tribes has been held together since then by the interim government, but the militia commanders who helped oust the Taliban wield tremendous influence.

Qanuni is one of them; another is Hazara chieftain Mohammad Mohaqiq, who has also agreed to accept the election. A third, Uzbek General Abdul Rashid Dostum, arrived in Kabul late on Monday for discussions with intermediaries including Khalilzad.

U.S. President George W. Bush, facing his own election battle next month, has claimed the Afghan vote as a foreign policy success and hopes it can be mirrored in war-torn Iraq.

Western donors have pumped aid into Afghanistan since the collapse of the Taliban, and the United Nations has been closely involved in reconstruction and the election itself.

"That this election was held without major security incident is a tribute to the determination of the Afghan population," U.N. Secretary-General Kofi Annan's spokesman said, and called on all candidates to resolve any disputes through lawful means.

Afghan-born U.S. envoy Khalilzad has been involved in negotiations with the candidates, and many Afghans believe his interventions were because Washington wants to avoid a foul up in these polls ahead of the U.S. election on Nov. 2.

While some deals are being offered to get the candidates on board, many feel that these militia commanders have also been impressed by the large turn-out for the elections and that turning their backs on the vote won't be easy.

No turnout figures have been announced, but by most accounts Afghans enthusiastically embraced the exercise, despite the overhanging threat of Taliban insurgents to sabotage the vote.

But midway through, all 15 of Karzai's challengers announced a boycott, saying a system to prevent multiple voting had failed. The indelible ink used to mark voters' fingers after casting their ballots could easily be wiped out, meaning that illegal multiple voting was possible.

Many election officials privately say that very few votes were fraudulent and would have no material effect on the poll.

An exit poll conducted by the Washington-based International Republican Institute (IRI), a U.S. think tank associated with Bush's Republican Party, showed Karzai heading for a landslide.

With more than 12,000 survey responses recorded, Karzai had over 50 percent of the vote and enough to avoid a run-off with second-placed Qanuni.

The full official count was likely to take about three weeks because of difficulties in taking ballot boxes to counting centres. In the rugged Hindu Kush mountains, the ballots will be brought down by donkey.




Today's Top News
Top World News

Annan applauds China's role in United Nations




Talks ongoing to free kidnapped Chinese




WHO report highlights traffic safety in China




China issue rules on overseas investment




Assessing status of nation's health




Bus crash kills 21 in Southwest China