French stunt jets paint Beijing sky
(China Daily)
Updated: 2004-10-11 21:22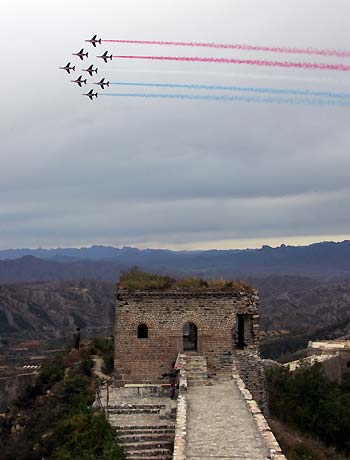 Eight Alpha jets of the French stunt flying team, Patrouille de France, fly over the Simatai section of the Great Wall in suburban Beijing Monday morning. Clear blue skies followed several days of foggy weather that thwarted the performance of the French pilots and damped the enthusiasm of the audience. [Xinhua]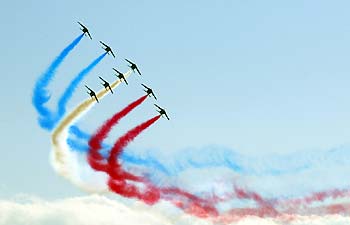 The French stunt flying steam perform. [Xinhua]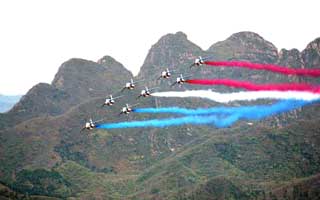 The French stunt flying team perform near the Simatai Great Wall in northern Beijing October 11, 2004.


Eight Alpha jets of the French stunt flying team, Patrouille de France, painted the sky above Beijing with the colours of the French flag Monday.

The long-awaited demonstration started above the Nanyuan Airport in Beijing. Two scheduled performances, which were to coincide with French President Jacques Chirac's visit to China, were cancelled on Thursday and Sunday due to foggy weather.

The team put on a graceful and exciting performance in their twin-engine training and attack aircraft and earned the applause and acclaims of the audience.

However, a problem with the wireless communication system of the No.7 jet yesterday prevented the team from making some of the more difficult stunts.

The French aerobatics team, also called "The French Patrol" in English, flew over the Great Wall yesterday morning.

The Air Show Tour of China is part of the Year of France.

The team was formed in 1953 and is one of the oldest full-time military aerobatic teams in the world.

It is the first time a French professional aerobatic team performs in China and the first time a show of that kind is held in the capital.

After Beijing, the team will head to Wuhan, Hong Kong and Zhuhai.




Today's Top News
Top China News

Talks go on for release of kidnapped Chinese




Electronics retailer tops China richest list




Annan applauds China's role in United Nations




WHO report highlights traffic safety in China




China issue rules on overseas investment




Assessing status of nation's health