Experts name civet as primary SARS source
(Agencies)
Updated: 2004-10-11 16:11
Chinese health experts have concluded that the civet cat, considered a delicacy in the south of the country, was the primary source of last year's SARS epidemic.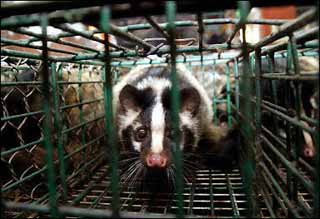 Civet cat. [file photo]



Thousands of civets were culled in southern Guangdong province in January this year on fears they may carry a form of the virus that can jump to humans.

The disease emerged in Guangdong in November 2002 and went on to kill 800 people, spread by travellers, around the world.

"Research proves that the civet cat is the primary animal source of the human SARS virus, with the ability to spread the virus," Xinhua's online service quoted the local government SARS Defence and Cure Scientific Group as saying in a statement on Sunday.

"So far, civet cat is the most easily infected wild animal ... However, there isn't enough evidence to say the civet cat is the only source of human SARS virus."

Severe Acute Respiratory Syndrome infected about 8,000 people around the world last year, about two-thirds of them in China, and savaged airline and tourism industries across Asia.

The civet is a small carnivorous mammal found in Asia and Africa. The brown, furry creature with a cat-like body, long tail and weasel-like face has long been coveted by those who believe its tender flesh will improve their health and complexion.


Today's Top News
Top China News

Militants set deadline for Chinese hostage




Hu, Chirac reach broad consensus




Experts: Chen's call for talks is vague




Economy to grow 9.4% this year and 8.9% next




Superman star Christopher Reeve dies at 52




Airbus to expand procurement from China