Hu, Chirac reach broad consensus
(Xinhua)
Updated: 2004-10-11 10:41
Visiting French President Jacques Chirac said in Beijing Sunday that he has had wide-range and in-depth talks and meetings with Chinese leaders and reached with them many important consensuses.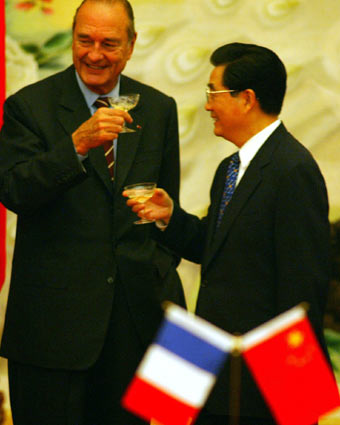 Visiting French President Jacques Chirac (L) chats with Chinese President Hu Jintao during a subscription ceremony Saturday in Beijing. Chirac arrived in Beijing Saturday on a state visit to help boost economic and cultural ties China and France. [newsphoto]
"The agreements will be fully implemented in the future cooperation between the two countries," said Chirac, who was paying his third visit to China as French president.
Chirac started his five-day China tour from Friday evening in Chengdu, capital of southwest China's Sichuan Province, and arrived in Beijing on Saturday.
After talks with President Hu Jintao and Vice President Zeng Qinghong, he met with China's top legislator Wu Bangguo and Premier Wen Jiabao in Beijing on Sunday.
In meeting with Wen, both sides highlighted the fast-growing trade and economic ties between China and France.
They agreed that the bilateral economic and trade cooperation between China and France boasts vast potentials and broad prospects, and both sides should further strengthen cooperation in energy, communication, agriculture and environment
The two also agreed to set up and improve the cooperation between small and medium-sized enterprises, and expand new and high-tech cooperation spheres.
Chirac expressed his hope for more bilateral cooperation in nuclear energy, aviation, railway, agriculture and environmental protection, stressing that the rapidly developing China has provided great opportunities for bilateral overall cooperation.
The French President brought with him a large delegation of officials and entrepreneurs to China. Before he started the visit, Chirac told press that his China tour undertook "important economic missions."
Sino-French trade value grew 60.9 percent in 2003 from a year ago to 13.4 billion US dollars.
On Saturday, the two countries inked a batch of cooperative documents, covering prevention and control of contagious diseases, information technology, telecommunications, environmental protection, railways, movies, aviation and banking.
Besides commitment to economic cooperation, the two sides expressed satisfaction with the growth of bilateral ties.
Wen said Sino-French relations as stable politically, in-depth economically, and close in cooperation in international affairs. "The bilateral all-round strategic partnership is being consolidated and advanced," he said.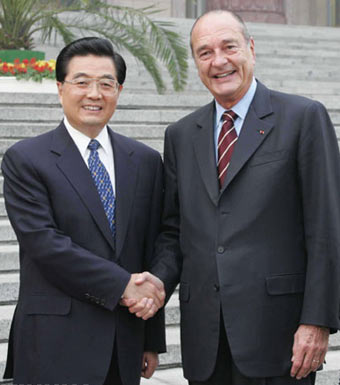 President Hu Jintao shakes hands with visiting French President Jacques Chirac (R) Saturday in Beijing, October 9, 2004. [Xinhua]
Moreover, he said China and France share identical or similar positions on many major international issues, citing that the Declaration on Dialogue among Cultures and Civilizations, which was proposed by China and France and adopted at the just-closed summit of the fifth Asia-Europe Meeting (ASEM), has won echoes from leaders of different countries attending the meeting.
Chirac said it is of great importance to strengthen dialogue between cultures and civilizations, and the fifth ASEM summit will play an important pushing role in enhancing mutual understanding and closer cooperation between Europe and Asia.
On Sunday evening, China and France issued a joint press communique, saying the two countries will join hands in promoting a world which is safer, more united and shows more respect to diversity.
"China and France are willing to undertake joint efforts to promote the stable development of Sino-European Union and Asia-Europe relations, and eradicate all obstacles affecting the relations between China and the European Union," the communique says.
Both countries agreed to enhance high-level political dialogues, promote mutual visit at high-level and especially fulfill the annual meeting between state or government heads, and expand consensus on major global issues in fields of development, poverty alleviation, environment, diseases, crises prevention and handling, anti-proliferation, war on terror and reform on the United Nations.
The communique says China and France will institutionalize the coordination between the two countries' permanent delegations in the U.N. and other international organizations, cooperate in conflict prevention and peacekeeping and propose joint initiatives when possible.
Chirac's state visit has also brought rich French cultural elements.
On Sunday evening, an electro-laser concert by French musician Jean Michel Jarre was staged at the front gate, or Wumen Gate of the Forbidden City, kicking off the French Culture Year which was jointly advocated by leaders of China and France.
Hu and Chirac exchanged congratulation letters to each other for the opening cultural gala, voicing their warm congratulation for the 40th anniversary of the establishment of China-France diplomatic ties.
Meanwhile, a French Culture Center was unveiled in Beijing in a bid to provide Chinese with a wider view of the country's culture. Bernadette Chirac, wife of French President Jacques Chirac, inaugurated the French Culture Center by beating a gong, a traditional Chinese musical instrument.
Chirac and Hu, accompanied by their wives, visited an exhibition of French impressionist paintings. Chirac also met with Liu Qi, secretary of the Beijing Municipal Committee of the Communist Party of China as well as French entrepreneurs in China.
Today's Top News
Top China News

Militants set deadline for Chinese hostage




Hu, Chirac reach broad consensus




Experts: Chen's call for talks is vague




Economy to grow 9.4% this year and 8.9% next




Superman star Christopher Reeve dies at 52




Airbus to expand procurement from China