Hu, Chirac agree on Taiwan, arms embargo
By Meng Yan (China Daily)
Updated: 2004-10-11 00:25
Visiting French President Jacques Chirac said France firmly supports the one-China principle and opposes any move that will lead to the change and deterioration of the cross-Straits situation.
"We can fully understand the stand of the Chinese Government and its policy of one-country, two systems," Chirac said on Saturday when he and President Hu Jintao met the press after their talks.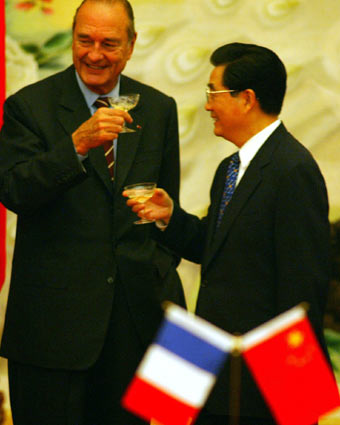 Visiting French President Jacques Chirac (L) chats with Chinese President Hu Jintao during a subscription ceremony Saturday in Beijing. Chirac arrived in Beijing Saturday on a state visit to help boost economic and cultural ties China and France. [newsphoto]

When asked about the arms embargo on China, Chirac said it is "groundless and illogical."

"I hope the embargo can be lifted in the coming months," he said.

Chirac arrived in Beijing on Saturday to continue his five-day state visit to China. Before that he visited Chengdu, capital of Southwest China's Sichuan Province and met with Chinese Vice-President Zeng Qinghong there.

Chirac will also visit Shanghai and Hong Kong.

During the talks between Chirac and Hu, both sides agreed to further promote and deepen bilateral exchanges and co-operation in various fields and lift the Sino-Franco and Sino-European all-around strategic partnership relations to a higher level.

Hu raised a four-point proposal on promoting Sino-Franco ties.

He suggested China and France enhance strategic dialogue and co-operation, enhance exchange between state leaders and forge a mechanism of annual meeting between state leaders of the two countries.

He proposed to strengthen Sino-Franco economic and trade ties through co-operation in aviation, spaceflight, transportation, nuclear energy, high-tech industry, small and medium-sized enterprises, agriculture and environmental protection.

Hu suggested the two countries enhance exchange and co-operation in culture, education and science and technology, and explore new ways of co-operation in those areas by summing up experiences of the Chinese Culture Year in France and the French Year in China.

The two leaders agreed that the Sino-Franco Culture Year is a pioneering undertaking in the history of bilateral cultural exchanges and is expected to exert profound influences on the development of bilateral relations.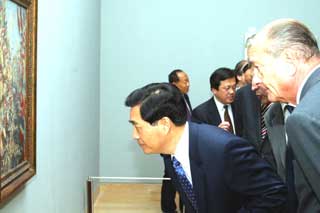 Chinese President Hu Jintao (L) takes a close look at an artistic work of French impressionist painters in Beijiing October 10, 2004 while French President Jacques Chirac looks on. This year has been marked as the "Year of France in China." [newsphoto]

Hu also suggested the two countries step up co-ordination and co-operation in international and regional issues, promoting democracy in international relations and diversity in mode of development.

Chirac said France and China have advanced their co-operation in an all-round manner and scored encouraging results.

Following their talks, the two presidents attended the signing ceremony on a batch of co-operative documents covering prevention and control of contagious diseases, information technology, telecommunications, environmental protection, railways, movies, aviation and banking.

Chirac yesterday met with Premier Wen Jiabao and top legislator Wu Bangguo.

Wen said China and France should further cement their economic and trade co-operations when meeting with Chirac.

He said both sides should strengthen co-operation in energy, communication, agriculture and environmental protection.

They should also establish and improve the mechanism of co-operation between their small- and medium-sized enterprises, and expand new- and high-tech co-operation spheres, Wen added.

Chirac expressed his hope for more bilateral co-operation in nuclear energy, aviation, railway, agriculture and environmental protection, stressing that rapidly developing China has provided great opportunities for bilateral co-operation.

Wu, chairman of the Standing Committee of the 10th National People's Congress, said the Chinese legislature is willing to keep close contact with the French parliament to deepen understanding and open up new areas for further co-operation.




Today's Top News
Top China News

Hu, Chirac agree on Taiwan, arms embargo




Chen Shui-bian's call for talks discredited




Economy to grow 9.4% this year and 8.9% next




Militants still hold Chinese hostages




Airbus to expand procurement from China




Lawmakers call for protection of drivers