Blast kills up to 17 near Baghdad police academy
(Agencies)
Updated: 2004-10-10 21:17
A suspected suicide car bomb killed up to 17 people near Baghdad's Oil Ministry and a nearby police academy Sunday, a spokesman for the ministry said.
"The bomb apparently exploded prematurely at an intersection in front of the academy. Most of the dead were passersby, including seven women," said spokesman Assem Jihad.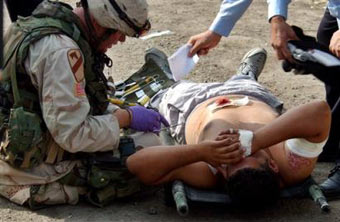 A US Army soldier attends an injured Iraqi man after a minibus packed with explosives detonated near a downtown police academy in Baghdad, Iraq, Sunday, Oct 10, 2004, killing seven people plus the suicide attacker, Iraqi Police sources say. Two car bombs shook the Iraqi capital in quick succession Sunday morning, killing at least eight people, and wounding 15. [AP]


He said a suicide bomber had caused the blast, earlier thought to have been a rocket impact. An Interior Ministry official said an investigation was still under way.

The Interior Ministry official put the death toll at six.

Police sources said they believed it had been a suicide car bombing and said they could confirm nine dead.

Jihad, the Oil Ministry spokesman, said the attack occurred around 7 a.m. in one of Baghdad's main thoroughfares.

The area houses several ministries including oil, water resources and trade.

There were recruits lining up near the police academy at the time and they may have been the intended target, Jihad said.




Today's Top News
Top World News

French Alstom signing US$1.23 billion deals




Two abducted Chinese engineers now safe




China condemns US on Taiwan issue




China joins Galileo project




Bank card spending hit record high




Nobel-winning novel to be published in China