Liu Wei can't wait to go home as a King
(NBA.com)
Updated: 2004-10-09 20:33
Liu Wei has played basketball with Houston Rockets center Yao Ming for 10 years, including this summer on China's national team.
In part because it will be a first for him, Liu is looking forward to playing with the Kings next week against his good friend and the Rockets in exhibition games in Shanghai and Beijing.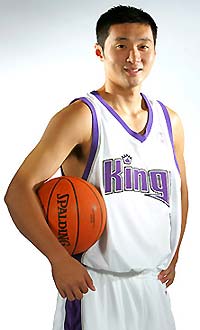 "It's going to be exciting to play at home," the 24-year-old point guard said of the two contests billed as the NBA China Games 2004, "but it's going to be more exciting to play against Yao. We've always been on the same team."
Liu, born and raised in Shanghai, doesn't speak English very well and uses Frank Sha as an interpreter. They stay in the team hotel and generally eat all of their meals there, Sha said.
However, the 6-foot-3, 198-pound Liu said he has no problems with language during games and when strategy is discussed. Liu said his experience at the Athens Olympics with the national team, guided by Dallas Mavericks assistant coach Del Harris, helped his ability to comprehend basketball terms in English.
In some ways, Liu's basketball development has been similar to that of American players.
He first came to the United States in 1998 with Yao and spent two months here playing in AAU competition and participating in Nike All-American camps and a Michael Jordan-sponsored camp. Two years ago, Liu joined the Chinese national team for an exhibition game against the Golden State Warriors in Oakland and played well.
Liu said only one other sport sparked his interest.
"I played soccer but only for two weeks," he said. "I didn't like it that much, and we didn't have a coach during holiday."
Unlike many kids growing up in the United States, Liu said he didn't always dream of playing in the NBA.
"No," he said with a giggle. "My goal was to try to make the junior national team."
Liu knows the odds of making the Kings are slim and plans to rejoin the Shanghai Sharks in China's "A" league, which begins in mid-November. But Liu said he'll continue working in hopes of following Yao, Menk Bateer and Wang Zhizhi as Chinese players to make the NBA. He would be the first guard to achieve the feat.
"I know the chances aren't that good to make the team," he said through Sha, "but I want to learn as much as possible in practice and the preseason games."
Liu said he needs to improve his strength and conditioning to perform at the NBA level. But Kings coach Rick Adelman, assistant Elston Turner and president of basketball operations Geoff Petrie agree Liu shows no fear.
"He's certainly not afraid to play at this level," Turner said of Liu. "He competes. I haven't seen him back down once. He's really an exceptional passer, and he's quick. He's been finding people without even looking at them. He's a real point guard."
Said Petrie: "He's held his own, and he has a good feel for the game. He's got a pretty good sense of how to play, and he doesn't look out of place out there."
Said Adelman: "Everybody has talked about him coming in here, and we have the China trip coming up, and people wanted to know if that's why we brought him in here. But since the first day he's been here, he's been very competitive. He shoots the ball well, athough he's struggled a little bit in camp. He's a clever passer, and he's not afraid to play physically. Sometimes you get guys who are token camp guys, but he's proven he's not one of those guys."
Today's Top News
Top Sports News

Chirac sees opportunity in China's economic surge




Two Chinese engineers kidnapped in Pakistan




Wen urges closer Asia-Europe partnership




Kerry and Bush face off over deficit, war




British hostage escaped before killed




Viet Nam vows to honour commitments