Afghans set for historic vote under militant threat
(Agencies)
Updated: 2004-10-09 08:59
Millions of Afghans prepared for a historic poll on Saturday, which will give the mountainous Islamic nation on the ancient Silk Road its first elected president and perhaps end over a quarter century of war.
There were no immediate reports of any major attacks overnight by the fundamentalist Taliban militants, who have vowed to disrupt what they call a U.S.-orchestrated sham.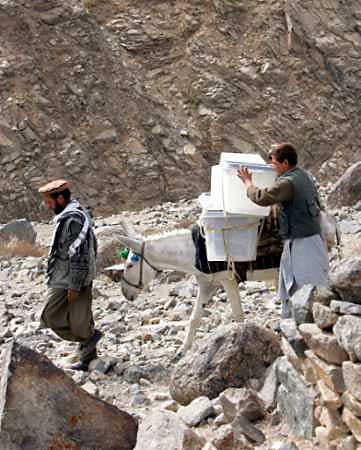 Afghan men using a donkey carry ballot boxes in the district of Parian about 95 miles northeast of Kabul October 8, 2004. Afghans go to the polls this Saturday in the country's first direct presidential election, which also will be a major test of the U.S.-led nation-building efforts since the 2001 ouster of the Taliban.[Reuters]


Polls open at 7 a.m. (0230 GMT) and close at 4 p.m., and the focus is on how many people turn out in defiance of the Taliban and whether U.S.-backed favorite, President Hamid Karzai, gets the 51 percent vote needed to avoid a November run-off.

Karzai's team is reportedly hoping that at least 60 percent of the almost 12 million eligible voters will turn up, which will go a long way to proving that democracy has made a strong start in a nation which was invaded by U.S.-led forces three years ago and is still controlled in large part by regional warlords.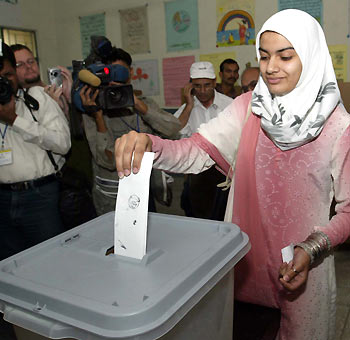 Moqadasa Sidiqi, a 19-year-old Afghan refugee in Pakistan, casts her vote in Islamabad October 9, 2004. Sidiqi became the first voter in Afghanistan's landmark presidential election because polling in Pakistan opened half an hour ahead of Afghanistan. [Reuters]


The Taliban regime was ousted in late 2001 for refusing to hand over militant chief Osama bin Laden, the mastermind of the Sept 11 attacks on U.S. cities that year. The world's most wanted man is believed to be somewhere along the border with Pakistan.

"Whichever government is made by the Americans for us, it will be unacceptable to us at any cost," Mullah Obaidullah, the former Taliban defense minister, said in a statement on Friday.

"The Americans have insulted our autonomy, independence and dignity (and) unjustly invaded our frontiers. We will retaliate to this insulting attitude and treatment with full force."

President Bush, who faces re-election himself next month, has cited the Afghan election as a victory for democracy and a foreign policy and nation-building success for his administration.

Karzai, who only made a few campaign appearances because of security constraints, has said he is more interested in how many people vote, rather than whether they vote for him.

"I urge you to vote freely, but I promise you that if someone else wins I will respect them and I will respect their vote. It is your choice," he said recently.

KARZAI SHOULD WIN

Most observers accept Karzai will win, more probably immediately or otherwise after a runoff, and believe the main challenge is in conducting a smooth election in the landlocked, rugged nation of 28 million people.

About 18,000 U.S.-led troops, hunting al Qaeda and Taliban leaders, are helping a 42,000-strong Afghan police and military force and 8,000 NATO-led peacekeepers provide security. They were on full alert as the nation prepared to vote.

Taliban guerrillas fired rockets in parts of Afghanistan on Thursday and Friday and Afghan troops intercepted a huge truck bomb near the volatile southern city of Kandahar, the headquarters of the militant Islamic group.

"Yes, security is a concern," said an elderly man with a trim salt-and-pepper beard as he shopped in a Kabul bazaar on Friday. "But this will be a great day. I will vote. I'm optimistic that an elected government can improve people's lives."

The first person to vote in the historic election is likely to be a woman -- but she will be in Pakistan.

Like in Afghanistan, polls for hundreds of thousands of Afghan refugees living in Pakistan will also open at 7 a.m. But time in Pakistan is half an hour ahead of that in their homeland, so the first vote will be cast at 0200 GMT.

The International Organization for Migration, which is conducting the refugee vote, said it arranged for an Afghan woman to be the first to mark her ballot at a polling station in the Pakistani capital, Islamabad, at exactly 7 a.m. Pakistani time.

Counting will begin immediately after polls close at 4 p.m., and the first trends will be known by Monday.

But a full count will not be available until late October -- donkeys are being used to bring down ballots from some of the mountains in the Hindu Kush -- and it is likely Karzai will not know until then whether he needs to contest a second round.

Eighteen candidates are in the fray although two announced earlier this week that they were withdrawing in favor of Karzai.

While Karzai is easily the best-known among the candidates, the patchwork of ethnic groups that make up Afghanistan could work against him if voting goes on community lines. He is a Pashtun, the group to which the country's rulers have traditionally belonged and makes up about 40 percent of the population.

Minorities include the Tajik, Hazara, Uzbek and Baluch communities.




Today's Top News
Top World News

ASEM calls for UN role in war on terrorism




Viet Nam vows to honour commitments




Year of events brings a lot of France to China




Britain shocked by death of Iraq hostage




Russia denies cutting oil exports to China




Psychological problems on the rise