Year of events brings a lot of France to China
By Qin Jize (China Daily)
Updated: 2004-10-09 00:26
Zhu Sha, 25, a French major graduate from Shanghai Foreign Language Studies University has never been to France, yet she is eager to get close to this European country's history and culture.
She will have an opportunity to mingle with France as the 10-month long "Year of France in China", which includes exhibitions, shows and concerts, kicks off on Sunday.
"As a student of French for seven years, I have a special feeling towards that country," Zhu said, "I am overjoyed to have a chance to enjoy the cultural beauty of it."
"It may sound too political but any move that reinforces the Sino-France relationship can really make me happy," she said.
The start of the "Year of France in China" was timed to coincide with French President Jacques Chirac's state visit, which started on Friday and runs through Tuesday.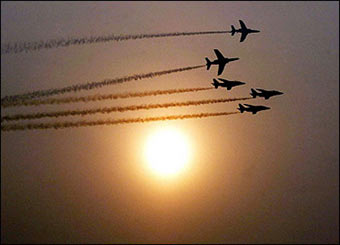 Patrouille in Beijing : A formation of the La Patrouille de France, the French Air Force aerobatic team, makes a pass during rehearsal Thursday in Beijing. [AFP]


Chirac was to meet with Chinese President Hu Jintao on Saturday and Premier Wen Jiabao and Wu Bangguo, chairman of the Standing Committee of the 10th National People's Congress, on Sunday.

He was also scheduled to watch an acrobatics show by Patrouille de France, the demonstration team of the French Air Force on Sunday.

For Claude Rumpler, a senior executive with L'Oreal in China, the current visit marks the first by the French President during his stay in the country.

He said he was very happy that the cultural activities would help the Chinese learn about France and its culture.

"We spoke a lot about China in France since last year, making this country much better understood by our people and now we are doing the same thing in China," he said.

He said he was amazed to see that the Chinese cultural year in France had attracted so much attention and it was talked about in all the magazines.

Culture plays an important role in both countries and when a company tries to go into another country, it has to focus on cultural exchanges and think about how the culture is developing.

Rumpler said China is a great country that is full of opportunities and the French cultural demonstrations would offer the Chinese companies an interesting chance to learn more about France.

From October 2003 to July 2004, some 370 activities, including exhibitions, performances and concerts, were staged across France as part of the Chinese Culture Year in France.

A similar series of events will begin in China on Sunday. It will focus on three themes of culture, namely heritage, creation, and invention.

The events will visit the capital and other commercially-minded cities, such as Shanghai in East China and Shenzhen in South China's Guangdong Province.