Between past and present
(Shanghai Star)
Updated: 2004-10-09 08:19
The I Ching, or The Book of Changes, has long been regarded as the earliest classic in Chinese cultural history and perhaps the oldest book in the world.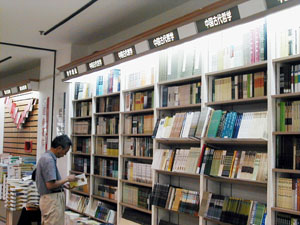 From it many concepts and thoughts have been derived in different fields of study related to ancient China, such as Chinese philosophy, Chinese traditional medicine, architecture and even everyday general knowledge. But because it is the oldest Chinese classic, the book, written in an ancient style, is difficult for later generations to understand. Many people at various times in China's past have tried to fully explain this puzzling book, but the different explanations have only raised further difficulties and disputes.
Recently in Beijing, the China Culture Promotion Society held a Culture Summit Forum. The three-day forum attracted a galaxy of Chinese scholars from many fields and involved not only social science, but also natural science. The major topic of the forum was the preservation and development of Chinese traditional culture in the context of globalization. The scholars put forward their understanding of what this means in China today.
Professor Yang Zhenning, Nobel Prize winner for Physics, gave a lecture on the I Ching's influence on the development of modern science in China. He said the profound influence of the I Ching on Chinese traditional culture had been the greatest obstacle in the development of modern science in China.
According to Yang, throughout Chinese history the inductive method has been dominant in both natural and social science. But the deductive method, ignored by Chinese culture, had been the cornerstone of the development of the logical structure of modern science in Western countries. The absence of the deductive method, he says, has held back the blooming of modern science in China.
The concept of the unity of heaven and human beings, so rooted in Chinese culture, is another element that has stunted the development of modern science, Yang says, reasoning that in Western countries, scientists separate man from nature. In his lecture, Yang said Chinese ideas about human beings and nature has led to great difficulties when it comes to studying modern science.
Spirited discussion
Yang's controversial lecture was followed by a heated discussion about his argument. Professor Liu Dajie from Shandong University, an I Ching scholar, pointed out that both inductive and deductive methods existed in Chinese culture, such as when in ancient times people used deductive reasoning to apply the meanings of the symbols in the I Ching to reality.
Leaving the detailed discussion aside, what the scholars seemed to care about, essentially, was people's attitudes towards tradition. Professor Zhang Yun from the State University of New York, whose major is the philosophy of science, said: "As a Chinese, from a personal point of view, or rather from a national point of view, I would like to appreciate ancient Chinese classics because they are part of the root of our cultural tradition.
"But in the sense of study and research in science, any ancient classics have their shortcomings. This is inevitable because of the limitations of the times in which they were worked out."
It is true that tradition has a two-fold effect on today's society. In most people's daily lives, tradition is what they have learned from their parents, and which they will pass on to their children. Traditional concepts and ideas form the basis for their concept of morality and the ways they think about themselves and others.
In this sense, traditional classics are vital for any nation because the social traditions, basic concepts and sense of morality evolves from what has been accumulated and passed on through national traditions.
Doctor Yan Yi'an from Fudan University, whose major is Chinese, said: "Tradition is such a complicated thing that we always get lost in it. For most people, tradition originated in the ancient classics and is powerful and influential because their daily lives need this stable element to maintain order in society. For example, maybe only a few understand the theory of wuxin (the five elements held by the ancients to compose the physical universe and later used in traditional Chinese medicine to explain various physiological and pathological phenomena) which is rooted in the I Ching, but today there are many people who prefer Chinese traditional medicine which is based on this theory."
Inevitable deficiency
On the other hand, for academic study and research, to discuss the influence and effect of tradition based on ancient classics is reasonable.
Zhang said: "Because of the precision and strictness of science, the vague nature of the ancient classics and the concepts based upon these classics have their inevitable deficiencies. If academic studies become mixed up with these general and rough concepts, no one can achieve any scientific success."
And in academic study and research, some seemingly "precise" and "correct" conclusions, and the studies surrounding them, should be treated with caution. "Quasi-science and even pseudo-science are not science," said Zhang. "Some scientific conclusions seem to be correct and clear but if we study what they are based on, the conclusions become absurd."
Yan said: "Many scholars try to make a scientific study of everything in tradition, but that's not proper because not everything is suitable for scientific study."
Every nation has its own classics. And in China, the power of traditional classics is unusually strong. This is because China was the home of one of the four earliest civilizations and, unlike the other three, it has never ceased to exist. In this sense, the influence of the ancient classics is strong. To hold an appropriate attitude towards them needs an appropriate understanding of what is meant by "tradition" and "traditional classic".
"I would rather take a neutral position but never abandon my favourites," said Zhang when asked how he would deal with this question. And maybe this is a good answer for many people.
| | |
| --- | --- |
| | |
| Fashion show in France | |

| | |
| --- | --- |
| | |
| Chow Yun-Fat 'can't stand' U.S. lifestyle | |

| | |
| --- | --- |
| | |
| Britney formalizes marriage, splits with manager | |
Today's Top News
Top Life News

ASEM calls for UN role in war on terrorism




Viet Nam vows to honour commitments




Year of events brings a lot of France to China




Britain shocked by death of Iraq hostage




Russia denies cutting oil exports to China




Psychological problems on the rise