ASEM calls for UN role in war on terrorism
By Hu Qihua (China Daily)
Updated: 2004-10-08 23:35
Leaders of the Asia-Europe Meeting (ASEM), which represents 40 per cent of world's population, will send a strong call for the United Nations to play a leading role in the war against terrorism.
The leaders gathered for a two-day summit, which brought 39 delegations from the two continents, to Viet Nam.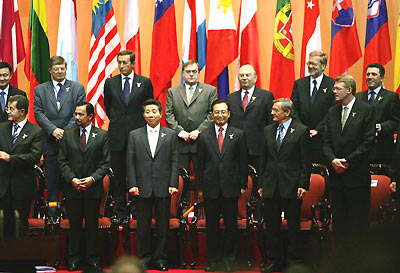 Premier Wen Jiabao has a photo taken with heads of state from ASEAN countries, Japan and Republic of Korea and 25 European countries at the opening ceremony of the Fifth Asia-Europe Meeting Friday in Hanoi. [Xinhua]


Among the documents to be adopted at Saturday's closing ceremony are the chairman's statement, the Hanoi Declaration on Closer ASEM Economic Partnership and the ASEM Declaration on Dialogue among Cultures and Civilizations.

In the chairman's statement which is scheduled to be released on Saturday, ASEM leaders reaffirm their strong commitment to combat terrorism, stressing that the United Nations should be the leader in preserving international peace and security.

This message could also be read partially among the leaders' talks on Friday.

Heads of delegations highlighted international terrorism as a serious threat to peace, security and sustainable development.

They expressed support for the role of United Nations and also agreed to intensify ASEM co-operation in the fight against terrorism, cross-border crimes, the spread of infectious diseases and pollution.

The leaders also expressed a desire to strengthen the UN system.

Economically, delegates also attempted on Friday's second round of discussions to set out targets to boost the Asia-Europe economic partnership.

In his opening speech on Friday, host President Tran Duc Luong said this Fifth ASEM marks a stronger commitment to broader multilateral co-operation, especially to the central role of the United Nations.

He said the first-ever enlargement of ASEM at this summit constitutes an important step forward in the development of the process, saying it will help tap the full potential of the Asia-Europe partnership, and heighten ASEM's important role in the world arena.

On Thursday, ASEM embraced 13 new members -- Laos, Cambodia and Myanmar, and 10 new EU state members, namely Poland, Hungary, the Czech Republic, Slovakia, Lithuania, Latvia, Estonia, Slovenia, Malta and Cyprus.

Heads of delegations of ASEM co-ordination member states, including the Prime Minister of Luxembourg Jean-Claude Juncker, Prime Minister of Japan Koizumi Junichiro, President of the European Commission Romano Prodi, and acting Prime Minister of Denmark Per Stig Moller, delivered speeches at the ceremony.

They called for promotion of Asia-Europe dialogues, covering politics, economics and culture.

In the last round of discussions on Saturday, leaders were expected to touch on measures to preserve traditional cultural values in the era of information technology and globalization.

Chinese Premier Wen Jiabao's remarks during the two days of closed-door meetings, covered the role of the United Nations, measures to strengthen Asia-Europe partnerships through concrete programmes and co-operation plans, preserving cultural diversity, as well as stepping up dialogue and co-operation against the backdrop of an ever-growing threat from non-traditional security factors, said an official source of the Chinese delegation.

Late Friday, Wen also met British Deputy Prime Minister John Prescott and Estonia Prime Minister Juhan Parts.

Lifting embargo

Friday afternoon, French President Jacques Chirac again called for a speedy end to a European Union ban on arms sales to China in a press conference in Hanoi before he left for China.

Chirac said the embargo no longer reflected present-day realities.

He said Paris would push the European Union to lift its embargo as swiftly as possible.

Chinese Foreign Minister Li Zhaoxing during meeting with officials of Luxembourg, the Netherlands and the European Commission also touched upon the issue.




Today's Top News
Top China News

ASEM calls for UN role in war on terrorism




Viet Nam vows to honour commitments




Year of events brings a lot of France to China




Russia denies cutting oil exports to China




Psychological problems on the rise




Guangdong to invest RMB139b on railway