Kerry holds small lead over Bush -- poll
(Agencies)
Updated: 2004-10-08 09:17
US Sen. John Kerry has taken a slim lead over President Bush, according to an Associated Press poll that shows the president's support tumbling on personal qualities, the war in Iraq and the commander in chief's bedrock campaign issue ! national security.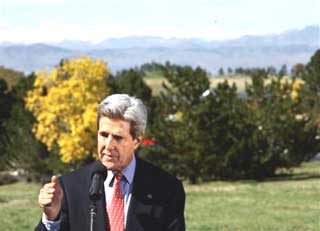 Democratic Presidential candidate Sen. John Kerry, D-Mass., speaks at a press availability outside the Inverness Hotel in Englewood, Colo. Thursday, Oct. 7, 2004. [AP]

Fewer voters than a month ago believe Bush is the best man to protect the country and fight the Iraq war.

The AP-Ipsos Public Affairs poll, completed on the eve of the second presidential debate, showed a reversal from early September, when the Republican incumbent had the momentum and a minuscule lead. With bloodshed increasing in Iraq, Kerry sharpened his attacks, and Bush stumbled in their initial debate.

Among 944 likely voters, the Kerry-Edwards ticket led Bush-Cheney 50 percent to 46 percent. The Oct. 4-6 survey had a margin of error of plus or minus 3 percentage points.

The race was tied 47-47 percent among all registered voters, with a 2.5 point margin of error. Other polls show the race just as tight.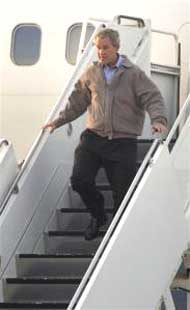 President Bush disembarks Air Force One after arriving at Lambert International Airport in St. Louis, Mo. Thursday, Oct 7, 2004. Bush arrived at St. Louis for the second of three debates with Democratic Presidential candidate John Kerry. [AP]

Nearly three-fourths of likely voters who were surveyed said they had watched or listened to the first presidential debate last week. Some 39 percent said they came away with a more favorable view of Kerry, while just 8 percent felt better about Bush.

"I was more comfortable with Kerry after the debate," said Louis Robinson, a 66-year-old retiree from Pittsburgh. "I just like the way he carried himself." Nearly a third of likely voters who watched said the debate gave them a less favorable view of Bush.

Nearly six in 10 of all the people questioned ! likely voters or not ! said the country was headed on the wrong track, reflecting a gloomy national mood that could jeopardize Bush's re-election bid. His overall approval rating among likely voters, 46 percent, was at its lowest point since June ! down from 54 percent in late September.

Eric Schlichting, a suburban Chicago inventory manager who tends to vote Republican, said Iraq is troubling him.

"Up until the last 18 months, I was leaning toward Bush, but the more that happens the worse it gets," Schlichting said. "He sticks to his guns, but his aim is so far off that sticking to his guns is not paying off."

While national polls gauge the potential popular vote, the real race for the White House is playing out one state at a time. That competition is remarkably close, with analysts saying both candidates are within reach of the 270 electoral votes needed to claim the presidency.

Bush is threatening Kerry's claim to Democratic-leaning states such as Wisconsin, Iowa, New Mexico and New Jersey. Kerry is pressing Bush's advantage in the two most critical states, Florida and Ohio, as well as GOP-leaning Colorado.

Bush advisers privately acknowledge that in the first debate he cost himself by fidgeting and grimacing during Kerry's answers, and failing to seize upon openings the Democrat gave him. They felt better about Vice President Dick Cheney's performance Tuesday against Kerry running mate Sen. John Edwards, and predicted that Bush would be sharper ! and tougher on Kerry ! during Friday night's debate in St. Louis.

In the broad scheme of things, Kerry's advances in opinion polls may be nothing more than a political adjustment ! a nudge of the pendulum rather than a big swing. But for some Republicans, the shift came as a shock, because they had looked at the first debate as a chance to put the race away.

Instead, Bush lost his momentum.

Bush strategist Matthew Dowd said he believes the president still leads Kerry, "but we're down from where we were last week. That's a fact. It's also the nature of the race. We've always said it was going to be a two- or three-point contest."

Said Kerry campaign manager Mary Beth Cahill: "Now that we're at the debates and people can see them on the same stage, they see Kerry has a plan to solve the problems in Iraq and that the president continues to focus on the past."

Dowd and his fellow Republicans have also said Bush would prevail because he's considered the strongest leader in a time of war. That is now open to debate.

On the question of who would protect the country, Bush led Kerry 51 percent to 45 percent among likely voters ! down from the 20-point lead that Bush held in a Sept. 7-9 poll by AP-Ipsos.

Bush's approval rating on handling foreign policy and the war on terror was 49 percent ! down from 55 percent in a Sept. 20-22 poll by AP-Ipsos.

Forty-four percent of likely voters approve of the commander in chief's handling of the war in Iraq, down from 51 percent in the late-September poll. It was 49-46 Bush on the question of who is best suited to handle Iraq, within the poll's margin of error.

On the eve of Friday's debate, Bush was forced by a critical new report to concede that Iraq did not have the stockpiles of banned weapons he had warned of before the 2003 invasion. Still, he insisted Thursday, "we were right to take action" against Saddam Hussein. Kerry renewed his assertion that Bush had misled voters and mismanaged the war.

Virtually across the board, Bush's approval ratings were as low as they have been since June. Kerry gained among women, opening a 12-point lead while slashing the president's advantage with men.

Less than half of likely voters, 47 percent, approve of Bush's performance on the economy and just 43 percent give him good marks for other domestic policies.

Bush and Kerry are considered equally likable, after Bush's ratings went down and Kerry's went up for an 11-point swing.

Slightly more voters consider Kerry honest, a reversal from last month. Far more voters consider Bush decisive (73 percent) than Kerry (43 percent), but the gap closed by 8 points.

Kerry widened his lead on the question of who would create jobs, with 54 percent favoring him and 40 percent Bush.




Today's Top News
Top World News

Annan applauds China's role in United Nations




Talks ongoing to free kidnapped Chinese




WHO report highlights traffic safety in China




China issue rules on overseas investment




Assessing status of nation's health




Bus crash kills 21 in Southwest China