Chinese finance chiefs meet G7 peers
(Xinhua/Agencies)
Updated: 2004-10-02 11:41
China's Finance Minister Jin Renqing and Governor of People's Bank, the central bank, Zhou Xiaochuan, held informal talks in Washington, D.C., October 1, with their counterparts of the Group of Seven industrial countries, the first such talks between China and the G7.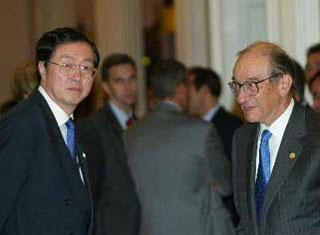 China's central bank governor Zhou Xiaochuan (L) talks with US Federal Reserve Chairman Allan Greenspan (R) before a G7 nonofficial talk in Washington, D.C., October 1, 2004. [Xinhua]
During the talks, which were initiated by the G7, the two sides had a frank exchange of views on major issues concerning the global economy, the macroeconomic policies of major developed countries and the economic situation in China.
Both sides expressed belief that regular talks of such kind will help deepen understandings and increase consensus between countries at different development stages.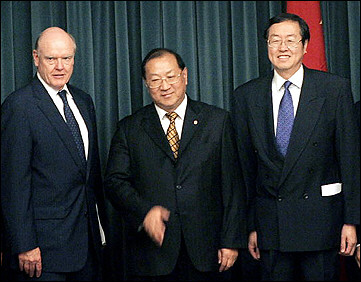 Secretary of the Treasury John Snow (2nd L) Jin Renqing, China's Finance Minister (2nd R) and Zhou Xiaochuan, China's Central Bank governor pose for a photo at the G7 informal talk session. [Reuters]

Such talks will also help promote cooperation between those countries on the basis of equality, and reflect different demands of those countries in international economic policy coordination, they added.

China pledged to "push ahead firmly and steadily" toward a more flexible exchange rate without providing a timetable for the shift from a currency peg.

In a statement released on October 1 by the U.S. and Chinese governments after talks in Washington, China repeated its "commitment to further advance reform" and said it would take more steps to prepare its economy for a more "market-based" currency.

The G-7 said in a statement at the end of its meeting that "more flexibility in exchange rates is desirable" for the international financial system. Other countries that peg their currencies include South Korea and Thailand.

Snow said a looser exchange rate in China would help contain its inflation now running at over 5 percent and spur the world economy.

Chinese officials, including Zhou Xiaochuan, governor of the People's Bank of China, have talked about scrapping the peg to the dollar in favor of a link to a group, or basket, of currencies, for at least two years. The central banker, who is in Washington for the talks, said in April that giving markets a greater role in setting the value of the yuan is a "top priority."

"We have the feeling that the message has been received," European Central Bank President Jean-Claude Trichet said in a news conference.

China's Emergence

Tonight's meeting reflects the emergence of China as a player in the global economy after its gross domestic product expanded at a seven-year high of 9.1 percent last year. It is now the world's seventh largest economy and the IMF predicted growth of 9 percent this year and 7.5 percent in 2005.

"China's has bigger and bigger influence over global economic development," said Qu Hongbin, an economist at HSBC Holdings Plc. "The G-7 countries can't ignore China."

Earlier this week, Wen said China would implement measures aimed at allowing market forces to play a greater role in determining the yuan's value, the Xinhua news agency reported. "We will further advance the reform and forge a mechanism which is more adapted to the changes in market supply and demand with still better flexibility," Xinhua quoted Wen as saying.

Some steps have already been taken. In June, China and the Chicago Mercantile Exchange struck a deal to create currency derivatives trading in Beijing. The government has also implemented policies to update its financial infrastructure and allow capital to flow more easily.




Today's Top News
Top China News

President Hu joins park revellers on National Day




Chinese finance chiefs meet G7 peers




Bush, Kerry poles apart on North Korea




Weapon sales to Taiwan opposed




After debate, Bush ridicules Kerry, France




Crude settles above $50 for first time