After debate, Bush ridicules Kerry, France
(Agencies)
Updated: 2004-10-02 09:17
US president George W. Bush ridiculed his political rival Senator John Kerry for his call for a international summit on Iraq as he sought to rebound from a debate that many Americans thought Kerry won.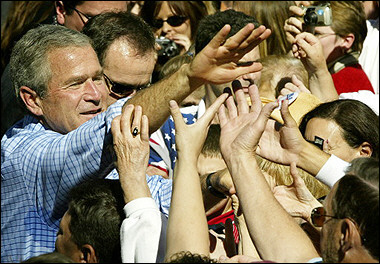 President George W. Bush sharpened attacks on Senator John Kerry's Iraq war strategy Friday, as the rivals campaigned in key states a day after the Democrat's strong showing in their first debate. [AFP]

The day after the first presidential debate, Bush swept into two battleground states, Pennsylvania and New Hampshire, and many of his jabs against Kerry sounded like what he wished he had said at the Miami debate.

Bush advisers conceded that Kerry gave an articulate performance -- "a slick debater," in the words of one -- after snap polls taken after the debate showed Kerry won the first of three debates.

But as for the substance, Bush took issue with many of Kerry's positions and wasted little time in aggressively attacking them, particularly his pledge that if elected he would call a summit to seek more international help on Iraq.

"I've been to a lot of summits. I've never seen a meeting that would depose a tyrant or bring a terrorist to justice," Bush said at a rally.

Bush lashed out at Kerry's contention that the United States had the right to take pre-emptive action abroad if it "passes the global test."

Bush somewhat promised to work with U.S. allies and the international community, "But I will never submit America's national security to an international test. The use of troops to defend America must never be subject to a veto by countries like France."

Kerry spokesman Phil Singer responded that "the global test is not asking for a permission slip. It's making sure that your decisions stand up to scrutiny and are backed by facts."

Bush campaign advisers praised their man for his plain-spoken delivery at the debate.

"We always expected him (Kerry) to be an articulate debater," said Bush campaign manager Ken Mehlman. But he said "Americans aren't electing a debater-in-chief, they're electing a commander-in-chief."




Today's Top News
Top World News

President Hu joins park revellers on National Day




Bush, Kerry poles apart on North Korea




Weapon sales to Taiwan opposed




Crude settles above $50 for first time




Companies protest against US sanctions




Moving millions rebuild a nation