Bush, Kerry poles apart on North Korea
(Agencies)
Updated: 2004-10-02 08:03
CORAL GABLES, Florida: US President George W. Bush and Democratic challenger John Kerry agreed the United States must talk to the Democratic People's Republic of Korea (DPRK) in order to peacefully resolve concerns over its nuclear activity. But they differed sharply over how to conduct negotiations.
In their Thursday evening debate, Bush defended his administration's participation in multilateral talks on the DPRK's suspected development of nuclear programmes, while Kerry said a bilateral tack could also bring progress.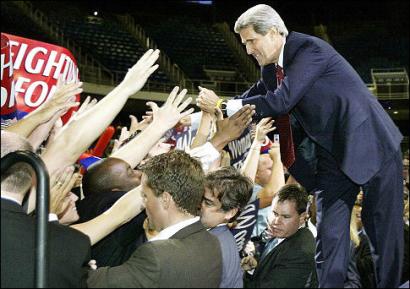 Democratic challenger John Kerry roared back to the campaign trail, piling more scorn on President George W. Bush's Iraq policy, as he shot for a comeback in the race for the White House. [AFP]

"I'm going to immediately set out to have bilateral talks with the DPRK," said Kerry, who claimed that the DPRK had acquired more weapons during Bush's term in office.

Bush responded that direct talks between Washington and Pyongyang would undercut the six-party negotiations in Beijing, and remove China as a powerful influence on its neighbour.

"It's a big mistake to do that," Bush said.

The difference in approach centres on the US administration's view that involving other countries in talks with the DPRK will bring more pressure to bear on the country to abandon its suspected nuclear capability.

Kerry opened the first debate with Bush promising: "I can make America safer than President Bush has made us."

He added: "I know I can do a better job in Iraq."

But Bush maintained: "America and the world are safer for it," adding: "The American people know I know how to lead."

US President Bush and Democratic rival Kerry also battled over Iraq in the debate, with Kerry accusing the president of "a colossal error of judgement" and Bush questioning Kerry's ability to lead America in dangerous times.

In a sometimes heated confrontation, Bush and Kerry clashed over who could best protect America, the need for the US-led invasion of Iraq and how to lead the country in an age of terrorism.

"This president has made, I regret to say, a colossal error of judgement, and judgment is what we look for in the president of the United States," Kerry said, accusing Bush of rushing to war without enough allied support or adequate planning for the peace.

Bush responded: "The world is safer without Saddam Hussein" and said Kerry was sending the wrong signal to US troops and the nation's enemies.

"I don't see how you can lead this country to succeed in Iraq if you say 'wrong war, wrong time, wrong place.' What message does that send our troops? What message does that send to our allies? What message does that send to the Iraqis?" said Bush.

The 90-minute, televised session at the University of Miami campus gave voters their first chance to directly compare the candidates.

Both candidates were on the offensive early, trading shots over their views of the world and US security in the aftermath of the September 11, 2001, attacks.




Today's Top News
Top World News

President Hu joins park revellers on National Day




Bush, Kerry poles apart on North Korea




Weapon sales to Taiwan opposed




After debate, Bush ridicules Kerry, France




Crude settles above $50 for first time




Companies protest against US sanctions