US and Iraqi forces attack insurgents
(Agencies)
Updated: 2004-10-01 15:23
U.S. and Iraqi forces launched a major assault Friday to regain control of the insurgent stronghold of Samarra, and hospital officials said at least 21 people were killed and 35 wounded.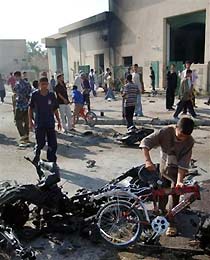 A boy picks up the damaged bicycle of his dead brother from the site after two car bombs and a roadside bomb went off in succession in the al-Amel neighborhood of Baghdad, Iraq, Thursday, Sept. 30, 2004. At least 41 were killed, most of them children and over 200 were wounded in the attack. [AP Photo]
Troops of the 1st Infantry Division, Iraqi National Guard and Iraqi Army moved into Samarra overnight, securing government and police buildings in the city 60 miles north of Baghdad, the U.S. command said in a statement. Explosions subsided by morning but gunfire could still be heard.
The offensive came in response to "repeated and unprovoked attacks by anti-Iraqi forces" against Iraqi and coalition forces, the military said in a statement. Its aim was to kill or capture insurgents in the city.
"Unimpeded access throughout the city for Iraqi security forces and multinational forces is non-negotiable," the statement said.
At least 21 people were killed and 35 injured, said Dr. Khalid Ahmed from Samarra General Hospital.
It was not clear if the push into Samarra represented the start of a larger campaign to retake several cities that insurgents have rendered "no-go" zones for U.S. and Iraqi troops. Officials have said that recapturing those cities would be necessary before nationwide elections scheduled for the end of January.
The military said insurgent attacks and acts of intimidation against the people of Samarra had undermined the security situation in the city, regarded as one of the top three rebel strongholds in Iraq, along with Fallujah and the Baghdad slum known as Sadr City.
Residents cowered in their homes as heavy shelling shook the city overnight. At least three houses were flattened and dozens of cars charred, they said.
U.S. and Iraqi forces blocked off streets and raided houses on the western side of the city, residents said.
An earlier report by CNN said 2,000 rebels were believed to be holed up in the city and that tanks and jets were being thrown into the fight as troops took the city "sector by sector."
Along with U.S. troops, soldiers from the 202nd Iraqi National Guard Battalion and 7th Iraqi Army Battalion were taking part in the operation. Such formations would normally involve several thousand troops.
Today's Top News
Top World News

Premier pledges national unity, further reforms




Bush, Kerry do battle on Iraq in debate




Companies protest against US sanctions




Auto recall law takes effect




Leaders join National Day celebrations




China displays new nuclear reactor