Overseas architects challenged by Chinese culture
(China Daily)
Updated: 2004-10-01 14:32
"Architecture means synthesis, not invasion," says architect Rem Koolhaas.
Leader of the Netherlands-based Metropolitan Architecture (OMA), Koolhass designed China Central Television's (CCTV) new complex in the Central Business District (CBD) of Beijing.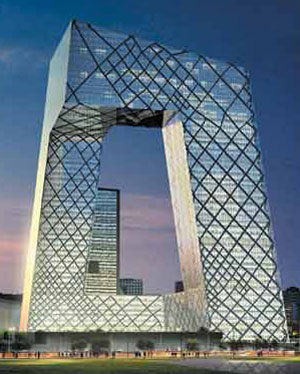 The new CCTV center is designed as a 230-metre-tall structure, which comprise two inverted L-shaped towers joined high above the ground. [sina/file photo]
He was speaking at the Architectural Biennial Beijing 2004 (ABB 2004), which is held between September 20 and October 6.
The first of such events in China, ABB 2004 has attracted a dozen leading international architects, including US-based Bernard Tschumi, French architect Paul Andreu, and Swiss architects Jacques Herzog and Pierre de Meuron.
It's not all flowers and applause, though - they are also being met with concerns and questions from domestic architects and the public.
In recent years, China has become the biggest gold mine for international architects.
Paul Andreu, the designer of Paris' Charles de Gaulle Airport, was selected as the chief architect of China's National Grand Theatre in 2001. He designed an egg-shaped transparent building opposite the Forbidden City and next to the rectangular Great Hall of the People.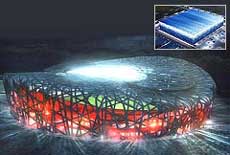 Nest-shaped stadium for the 2008 Olympic games, designed by Piere de Meuron. Inserted at the top right corner is the design of the swimming center. [file]

Jacques Herzog and Pierre de Meuron designed the Beijing Olympics Stadium for the 2008 Games.

The stadium is clad in a web-like series of massive steel beams that undulate to create what many say looks like a vast bird's nest. The venue is where the opening and closing ceremonies will be held.

Rem Koolhaas' new CCTV's headquarters are two high-rise buildings which form the focal point of a 10-hectare site in the CBD. The 230-metre-high headquarters is about 400,000 square metres in area and will have everything under one roof - including administration, news, broadcasting, studios and programme production.

Commercial developments, long before the conception of public buildings like CCTV or the National Grand Theatre, have been keen to invite foreign designers, although they have never been easily accepted by local experts or the public.

When the Grand National Theatre broke the ground in 2001, more than 100 leading Chinese architects, scientists and literati wrote a joint letter questioning the plan's inconsistency with the traditional Chinese architecture nearby, its skyrocketing cost and its illogical interior design.

The other projects have also been questioned for their high costs. Of other major queries, the leading issue being discussed during the ABB focuses on the preservation of traditional Chinese culture.

"Western architects bring a new concept of space and form, but it is difficult to say they have taken root in China because of the totally different culture," Zhu Qi, a famous architect from the China Art Academy, told the Architectural Forum, one of eight forums at the Biennial.

Zhang Zaiyuan, a Guangzhou-based architect, said that individually, many Western architectural works in China were well designed, but some of them did not suit the environment.

Controversies

Overseas architects seem to be prepared well in the face of these challenges from their Chinese counterparts. Their exhibitions are certainly more eye-catching.

In the National Art Museum of China, Paul Andreu's works are displayed in a single hall.

"We know the opposition. But it's not anything different from what you might hear in London or Paris. There are always some conservative sounds in any society," Mark Goulthorpe, a professor of architecture at the Massachusetts Institute of Technologies, told China Daily.

Wilfried Hackenbroich, partner of the Germany-based Hackenbroich Architecten Ag, said it was unrealistic for Western architects' works to be very popular in China.

"But in a major city like Beijing or Shanghai, people need novel, splendid landmark buildings and that's what we are pursuing in China," Hackenbroich said on the sidelines of a forum.

He also explained the high cost of Western architectural works in China is not very big in terms of per unit cost.

"As far as I know, works in China are much cheaper than similar ones in Europe," Hackenbroich told China Daily.

Koolhaas compared Western architects with their Chinese counterparts.

He said China was in a period of rapid change and transformation which Western societies had already experienced. Many Western architects are better equipped to express this transformation in architectural language.

Chinese developers also defend foreign architects' works in China.

"Beijing is not a testing ground for foreign architectural works. It is a place where their masterpieces can be brewed," said Pan Shiyi, chairman of SOHO China Co Ltd.

He invited Japan's Riken Yamamoto to design his residential and commercial complex Jianwai SOHO, and the famous avant-garde Melbourne design company Lab Architecture Studio to design his new project SOHO Shangdu, a shopping and residential complex in the CBD.

Having designed the famous Federation Square project in Melbourne, the Lab studio has made SOHO Shangdu a combination of irregular and upside-down triangles.

"The cost of those avant-garde designs might be higher, but they are well accepted by the market," Pan said.

Experts say the market factor plays a pivotal role in the access of foreign architects in China. Developers are eager to boast about their foreign design because these developments often sell better than those of domestic firms.

US-based Chinese artist Gao Minglu, one of the planners of the ABB 2004, said domestic architects and the literati were raising more skepticism on foreign architectural works not just because of the cost, safety, or form of the buildings.

He said the real reason was a fear of losing out and that Chinese tradition would be lost.

"They suddenly see their knowledge and architectural language, which they have inherited from their teachers and ancestors, isn't being put into use, and their role becomes subordinate to that of foreign architects," said Gao.

The modern Chinese architects came out of the 1930s and combined their learning of Chinese building traditions and training in Western architecture. Shanghai's Shikumen, with Western-style stone walls but an Chinese interior, was a typical construction of the period.

Between 1949 and the late 1970s, the absorption of Soviet construction style and closure to the West enabled Chinese architects to develop their own traditions.

But the process was suddenly broken down, Zhang Zaiyuan said.

"At this stage, many Chinese architects have discovered that their own identities have become fuzzy but their new conceptual world has not been established," Zhang said.

The rapid change of architectural practice and conflicting ideas can be clearly seen in Beijing's Chang'an Avenue. Buildings along the avenue feature the traditional Forbidden City, Soviet style buildings such as the Military Museum, and the avant-garde Grand National Theatre.

Cultural convergence

Yet others say the Western impact has been overestimated.

"What is Chinese tradition? The tradition has always been a process of absorbing new foreign concepts and ideas," said Zhu Qi.

The history of architecture shows that as early as the Tang Dynasty (AD 618-907), Chinese artisans were absorbing the then Islamic architectural structure from the West.

He added that the current Western impact seemed obvious partly because it had only been looked at for a short time. Given another 50 years, people will be more used to a converging of cultures.

As well as their techniques and avant-garde styles, Western, particularly European, architects also have a sense of harmonious living.

Their works seem always to try and melt a conspicuous power structure by refusing to put in straight and perpendicular roads between different building blocks, such as between government departments and common residential zones, Zhu said.

Some foreign architects are now involved in protecting Chinese traditions.

US architect Bernard Tschumi has worked out a design to save Factory 798, a derelict factory in Beijing whose site has been developed into an art museum by artists who rent it to live in.

Its landlord has sold the area to real estate developers to build commercial buildings and the controversy on whether to keep it is heating up.

Tschumi's plan is to keep the original art museum while using huge pillars to erect the commercial development 25 metres above the museum. Lighting would be solved by making the central area of the commercial development transparent.

"Users of future commercial buildings will be glad they can live together with this wonderful art museum," said Tschumi.

Dieter Hassenpflug, a professor of architecture from Germany, also showed his plans to preserve old buildings in Shanghai and Harbin.

"While European techniques can be absorbed to preserve old buildings in China, our working experience here indicates that there must be a strong public will to change the current development model, which is only driven by the market. This is one thing the ABB 2004 can bring to China," Hassenpflug said.




| | |
| --- | --- |
| | |
| Michelle Yeoh engaged to Ferrari boss Todt | |

| | |
| --- | --- |
| | |
| Beyonce Tears Leg Muscle While Dancing | |

| | |
| --- | --- |
| | |
| Jet Li hunts for bigger home | |
Today's Top News
Top Life News

Premier pledges national unity, further reforms




Bush, Kerry do battle on Iraq in debate




Companies protest against US sanctions




Auto recall law takes effect




China displays new nuclear reactor




Two women found with HIV-immune gene