Head nurse in Sun Zhigang case gets 2 years
(Shenzhen Daily)
Updated: 2004-09-30 08:45
Wei Guoying, a former head nurse at a Guangzhou hospital, was sentenced to two years in prison with a three-year reprieve for negligence in the death of Sun Zhigang last March, the Southern Metropolitan News reported Tuesday.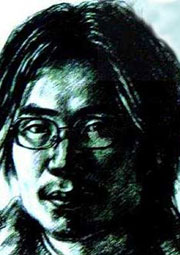 The portrait of Sun Zhigang, who has lost his young life at a repatriation center in Guangzhou last March [baidu]

Wei, 40, was the last person to be tried over the death which resulted in a change to the law last year.

Sun Zhigang, 27, a graphic designer from Hubei Province, was treated as a vagrant and detained in a repatriation center in Guangzhou in March last year when he could not show his temporary residence card and identification card.

After claiming he had heart disease, Sun was sent to a branch of the Guangzhou Hospital for Cerebral Diseases, where Wei worked as head nurse.

He was found dead a few days later and an investigation found he had been beaten to death by inmates at the instigation of a nursing assistant, Qiao Yanqing.

In June 2004, Qiao was sentenced to death for playing a leading role in Sun's death and one of the inmates was given a suspended death sentence.

Ten other inmates received sentences of up to life imprisonment for their parts in the homicide, while another six people, including a policeman, a senior official of the repatriation center and four medical workers at the hospital, were given prison terms of two to three years for neglecting their duties.

Procurators had been arguing about Wei's role in the case and suspended her trial until this week, the paper said.

Sun's case has partially led to the State Council rescinding a regulation which was introduced in 1982 allowing police to detain people who failed to produce local residence permits.




| | |
| --- | --- |
| | |
| Jet Li hunts for bigger home | |

| | |
| --- | --- |
| | |
| Dark skin changes idea of beauty | |

| | |
| --- | --- |
| | |
| Miss Asia candidates from China | |
Today's Top News
Top Life News

Powered by China, world economy to grow 5%




Hu vows to modernize Chinese army




Taipei's provocative actions condemned




Nation on alert against outbreak of bird flu




Elimination of quota on textiles welcomed




China expects influx of foreign students