Israel kills 6 Palestinians in Gaza, W.Bank raids
(Agencies)
Updated: 2004-09-29 23:51
Israeli forces killed six Palestinians including three teenagers on Wednesday as they thrust deep into Gaza to quell rocket fire into Israel and raided two West Bank cities in search of wanted militants.
Youths of 17 and 14 in a stone-throwing crowd that confronted Israeli forces were shot dead in Gaza's Jabalya refugee camp. Fifteen others, many of them students in school uniforms, were taken to hospital with gunshot wounds, medics said.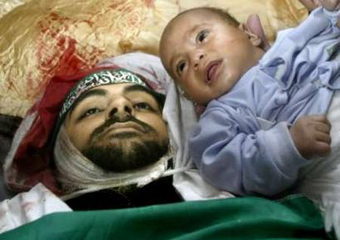 Mohammed, the three month old baby son of Palestinian Hamas militant Tawfiq Al-Shrafi, is held near his father's body during his funeral in Jabalya in the Gaza Strip, September 29, 2004. [Reuters]


Israeli troops backed by tanks also killed a 24-year-old gunman in Jabalya, a stronghold of Islamist militants who have fired hundreds of crude rockets into nearby Israel.

In a separate incident in central Gaza, Israeli troops shot dead a boy of 13 and wounded four others in a crowd of stone-throwers who approached the entrance to an isolated Jewish settlement, according to medics.

Another Palestinian gunman was killed in an army raid into the West Bank city of Nablus. In Jenin, a militant died when a taxi he was in overturned while trying to elude pursuing Israeli soldiers. A comrade was shot dead as he fled on foot.

Israeli troops also blew up the Jenin home of a high-profile militant commander in the Fatah faction of Palestinian President Yasser Arafat. The militant leader was not there at the time.

Violence surged on the heels of the fourth anniversary of a Palestinian revolt. Prime Minister Ahmed Qurie urged his people and Israel on Tuesday to reconsider tactics that have locked the two sides in a chronic cycle of bloodshed.

Israeli Prime Minister Ariel Sharon is bent on crushing militant groups to prevent them claiming victory after a planned evacuation of 8,000 Jewish settlers from Gaza and a few from the 230,000 in the West Bank next year.

But Islamist militants vowed to keep fighting until Israelis had evacuated "all of Palestine." They are dedicated to destroying Israel as well as regaining the West Bank and Gaza, occupied by the Jewish state in the 1967 Middle East war.

BATTLE AT REFUGEE CAMP

Israeli tanks and troops charged into north Gaza on Tuesday night in another bid to stamp out elusive squads of Hamas militants who launch makeshift Qassam rockets over Gaza's fenced border into Israel almost daily.

"We begin the fifth year of the intifada (uprising) and we will keep firing rockets and mortars, we will continue our jihad until all of Palestine is returned," said Nizar Rayan, a Jabalya Hamas leader brandishing an assault rifle and grenade launcher.

"We are operating (again) in north Gaza in order to try to stop the launching of Qassam rockets that are terrorizing nearby Israeli communities," an Israeli army spokeswoman said.

Israeli forces besieged Beit Hanoun, a town adjacent to Jabalya, for a month in the summer in a hunt for rocket squads.

The incursion killed 20 Palestinians and left a trail of destruction, but the rocket volleys soon started again. Israeli forces spent four more days in north Gaza three weeks ago. But again rocket salvoes resumed against the border town of Sderot.

The rockets have killed two people in four years but have become psychologically important for militants now that Israel has succeeded in limiting their suicide bombings inside Israel.

Critics of the raids into Gaza say Israel risks getting sucked back into heavy fighting to stop the rockets just as it is preparing to withdraw from the territory.




Today's Top News
Top World News

Threat to hit Shanghai bares Taiwan's splittist motive




Province fills leading positions via election




China to improve RMB exchange rate system




Death toll from boat accident rises to 28




Strong earthquake shakes central California




College graduates' job situation improving