Face to face with Chinese director Wang Xiaoshuai
By Cory Vietor (City Weekend)
Updated: 2004-09-29 11:00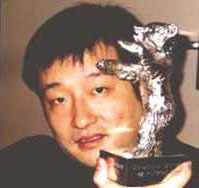 Wang Xiaoshuai holds his 'Silver Bear' award for best director in the movie 'Beijing Bicycle' at 2001 Berlin Film Festival. [sina/file]

Reporters from City Weekend sit down with director Wang Xiaoshuai and ask him about his filmatic inspiration.

Q: Can you remember the first movie you watched?

A: My father worked in a Beijing Opera Troupe in Guizhou when I was a kid, so the first movies I watched were Beijing opera, such as Shajiabang and Haigang. As a kid the impact was so strong. We lived in a mountainous area, where it was dark all the time. The bright lights from the stage made me feel safe.

Q: At that time, did you aspire to be a filmmaker?

A: No, I was only about five years old. Later I watched many Albanian movies. Still, my earliest movie memories are connected to the stage lighting. When bad guys appeared the lighting would become dark. When the good guys entered it would become bright. It was very comforting.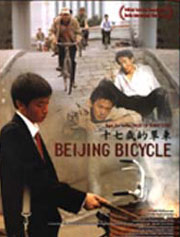 A copy of the poster of 'Beijing Bicycle' directed by Wang Xiaoshuai [sina/file]

Q: How did becoming a filmmaker change how you view movies?

A: Actually for a long time movies were just for fun. I was studying at the Central Art Academy when I decided to enter Director Department of the Beijing Film Academy. At the time Fifth-generation directors and movies like Chen Kaige's Yellow Earth and Zheng Junzhao's One and Eight were so different they were shocking. Even then I wasn't thinking about how movies were made. One day before the entrance examination, I went to campus and happened to see Antonioni's Blow Up. It was so exciting and completely different, it really showed me what a good movie is.

Q: Has a movie ever inspired you to make a particular movie?

A: Not really, but movies have influenced my emotions and feelings. From director Yasujiro Ozu's movies especially Tokyo Story, I realized that Chinese could produce good movies. Tokyo Story gave Asian filmmakers confidence.

Q: Any movies you'd like to remake?

A: Yes. I would like to remake or do a sequel to my first film The Days. I'd use the same performers, the same family stuff, and improve on the production values and technical things like live-sound recording.

Q: As a professional filmmaker, do you watch movies differently?

A: When I go to the cinema, I am just like the rest of the audience, but these movies often disappoint me. I image the audience feels the same. If the movie I choose after one or two scenes isn't very good, I'll stop watching. If the initial feeling and atmosphere are right, then it's a good movie. As a filmmaker I would recommend Italian director Nanni Moretti's The Son's Room. It's not an easy film, but if you're patient, you will feel the emotion and understand the perspective of the director.

Q: What movies should we look out for? What's next for you?

A: Jia Zhangke's The World; Zhang Yang's Xiang Ri Kui. My next movie is called I'm Nineteen.

Wang Xiaoshuai's previous films include: Drifters (2003); Beijing Bicycle (2001); So Close to Paradise (1998); Frozen (1997); Suicides (1994); The Days (1993)





| | |
| --- | --- |
| | |
| Dolly creator seeks human cloning | |

| | |
| --- | --- |
| | |
| Julia Roberts eyes a 'Switch' | |

| | |
| --- | --- |
| | |
| DreamWorks's 'Shark Tale' premiered in New York | |
Today's Top News
Top Life News

Province fills leading positions via election




China to improve RMB exchange rate system




Death toll from boat accident rises to 28




Strong earthquake shakes central California




Birth anniversary of Confucius remembered




College graduates' job situation improving